Toll free 800 - 845-1140
Shipping will be added to all orders, we always endeavor to give you the best rate >>> Click for Rates.
If you have any questions or need help email us, call us or click here for HELP

American Battleships Models
Brand New USS Missouri 1/700 Pre Painted! Click the picture.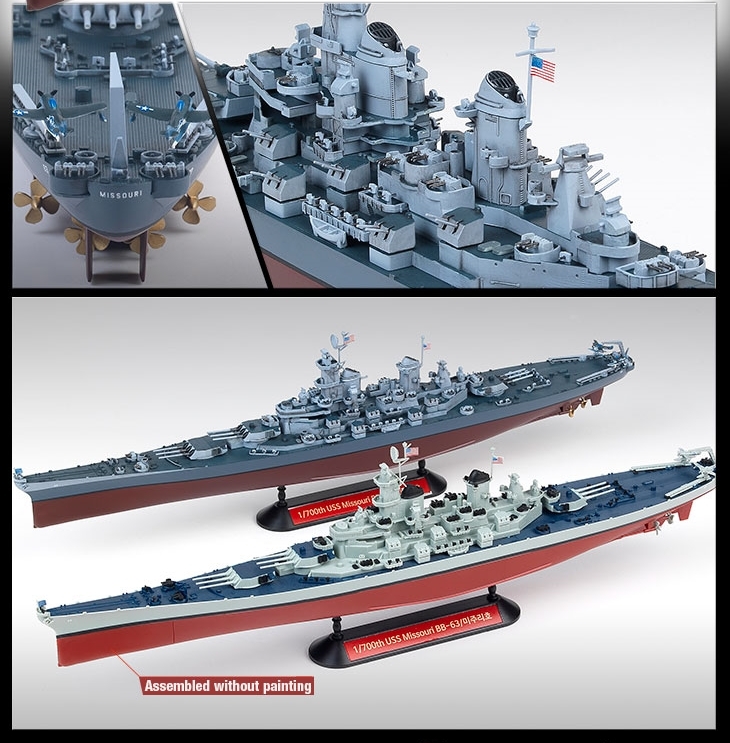 Click Picture for information to Buy
Click to find other American Ships
| | | | | | | | |
| --- | --- | --- | --- | --- | --- | --- | --- |
| Item # | Navy | Ship Name | Description | | Price | | |
| BB101 | - | | 1991 Fit full hull 15" long | 1/700fh | 29.95 | TRP | << Click to Buy |
| BB102 | BB-63 | "Missouri" | WWII 15" long waterline | 1/700wl | Gone | FUJ | |
| BB103 | - | | 1991 fit 15" long | 1/700fh/wl | 29.95 | TRP | << Click to Buy |
| BB104 | - | | WWII 15" long waterline | 1/700wl | 39.95 | TAM | << Click to Buy |
| BB105 | - | | WWII 15" long Pre Painted | 1/700wl | 29.95 | ACD | << Click to Buy |
| BB107 | - | | WWII full hull 21" long | 1/535fh | 19.95 | REV | << Click to Buy |
| BB108 | - | | WWII version 53" long It's here! | 1/200fh | 336.00 | TRP | << Click to Buy |
| BB109 | - | | 1991 Version 30" long full hull video | 1/350fh | 135.00 | TAM | << Click to Buy |
| BB109A | - | | Battleship | 1/450fh | Gone | HAS | |
| BB110 | BB-62 | | WWII 15" long waterline | 1/700wl | Gone | FUJ | |
| BB111 | - | | 1991 version 15" long | 1/700fh/wl | 29.95 | TRP | << Click to Buy |
| BB112 | - | "New Jersey" | Mod. Version | 1/700fh | Gone | GBX | |
| BB113 | - | | Mod. Version very detailed | 1/700wl | 39.95 | TAM | << Click to Buy |
| BB114 | - | "New Jersey" | Modern Fit full hull 18" long | 1/600fh | Gone | KAN | |
| BB115 | - | | Modern Refit Super Model NEW | 1/350fh | 189.00 | REG | << Click to Buy |
| BB116 | - | "New Jersey" | Modern Version full hull 53" | 1/200fh | Gone | TJN | |
| BB117 | - | | Current Fit 30" long full hull | 1/350fh | 135.00 | TAM | << Click to Buy |
| BB118 | - | "New Jersey" | Vietnam Version | 1/350fh | Gone | MHN | |
| BB119 | BB-61 | | WWII 53" long It's here! | 1/200fh | 336.00 | TRP | << Click to Buy |
| BB121 | - | | Mod. Version | 1/700fh/wl | 29.95 | TRP | << Click to Buy |
| BB122 | - | | WWII Waterline Model | 1/700wl | 39.95 | TAM | << Click to Buy |
| BB124 | BB-60 | "Alabama" | WWII SD class full hull 12" | 1/700wl | Gone | HAS | |
| BB124A | BB-60 | | WWII SD class full hull 12" | 1/700wl | 32.95 | TRP | << Click to Buy |
| BB125 | BB-60 | | WWII SD class full hull 24" | 1/350wl/fh | 120.95 | TRP | << Click to Buy |
| BB126 | BB-59 | "Massachusetts" | WWII SD class full hull | 1/720fh | Gone | REV | |
| BB127 | - | | WWII SD class full hull 26" long | 1/350fh | 120.00 | TRP | << Click to Buy |
| BB128 | BB-57 | "South Dakota" | WWII CL 35,000 ton 12" long | 1/700wl | Gone | HAS | |
| BB128A | BB-57 | | WWII CL 35,000 ton 12" | 1/700wl/fh | 34.95 | TRP | << Click to Buy |
| BB130 | BB-56 | | WWII 35,000 tons | 1/700wl | 31.95 | TRP | <<Click To Buy |
| BB131 | BB-55 | "North Carolina" | S.S. to Washington | 1/700wl | Gone | AOS | |
| BB132 | - | | WWII super model | 1/350fh | 129.95 | TRP | << Click to Buy |
| BB133 | - | | WWII super model | 1/700fh | 31.95 | TRP | << Click to Buy |
| BB135 | BB-48 | | Tennessee Class 1944 resin** | 1/350fh | 325.00 | ISR | << Click to Buy |
| BB135A | BB-48 | | Late War version resin** | 1/700fh/wl | 46.95 | TRP | << Click to Buy |
| BB136A | BB-46 | | Early War 1941 Battleship | 1/700fh/wl | 46.95 | TRP | << Click to Buy |
| BB136B | BB-45 | | Late War 1944 Battleship | 1/700fh/wl | 46.95 | TRP | << Click to Buy |
| BB137A | BB-44 | | Pearl Harbor version 1941 | 1/700wl | 39.00 | TRP | << Click to Buy |
| BB138 | BB-43 | | Super Detailed 1941 or 1944 | 1/700wl | 41.00 | TRP | << Click to Buy |
| BB139 | BB-39 | | Super Detailed 10" super detailed | 1/700wl | Gone | DML | |
| BB139A | BB-39 | | Super Detailed 10" long | 1/700wl | 11.95 | HOB | << Click to Buy |
| BB140 | - | | 31,000 tons 17" long | 1/429fh | 19.95 | REV | << Click to Buy |
| BB141 | - | | 31,000 tons 20" long | 1/350fh | OUT | HBO | |
| BB142 | - | | 31,000 tons 36" long In Stock | 1/200fh | 199.95 | TRP | << Click to Buy |
| BB143 | BB-38 | | 1944 Version 10" super detailed | 1/700wl/fh | Gone | DML | |
| BB144 | BB-37 | | New Resin kit 1941 | 1/350fh | 325.00 | ISR | << Click to Buy |
| BB145 | BB-36 | | Resin kit 1941 | 1/350fh | 325.00 | ISR | <<Click To Buy |
| BB146 | BB-35 | | WWII Older Battleship | 1/350fh | 89.00 | TRP | << Click to Buy |
| BB147 | BB-34 | | WWII Older Battleship | 1/350fh | 89.00 | TRP | << Click to Buy |