Toll free 800 - 845-1140

We are an Authorized ARIBA Vendor

Use your
GSA Cards

Shipping will be added to all orders, we always endeavor to give you the best rate >>> Click for Rates.
If you have any questions or need help email us, call us or click here for HELP

Welcome to your online resource for items pertaining
to the Carrier USS Ronald Reagan CVN-76.
This is not an official use of the USS Ronald Reagan
insignia. The US Navy & USS Ronald Reagan
do not endorse any products or vendors.
Above all, we must realize that no arsenal, or no weapon in
the arsenals of the world, is so formidable as the will and
moral courage of free men and women. It is a weapon our
adversaries in today's world do not have.

President Ronald Reagan
1911-2004
Build a model of the USS Ronald Reagan, Click the ships picture.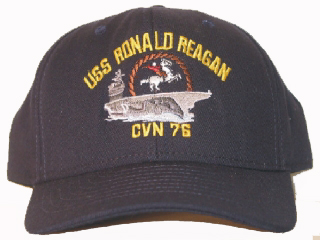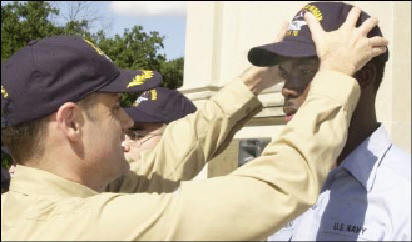 The new wool blend 6 panel styled
like the one worn on the ship.

CVN-76 Ball Cap -- $18.95 #93149
Shipping 7.00
USS Ronald Reagan commissioning July 12, 2003
Shipping on all hat $7.00
CVN-76 Ball Cap
Standard Carrier Cap Navy Blue
& No Red Hull
Admiral Hat
$18.95 #93149
$27.50 #93149REG

$23.95

Direct Embroidered USS Ronald Reagan Ball Caps
Captain Braids 6.00 extra - Admiral Braids 6.00 extra.
USS Ronald Reagan Patch
wear it on our sleeve.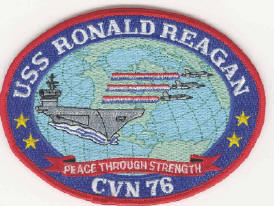 5" Carrier Patch - Item RRPAT# 4.50
USS Ronald Reagan Art Prints
Click the pictures to see the prints.
Click the pictures for more info!

Click this Picture to build a model
of the USS Ronald Reagan.
Free USS Ronald Reagan computer screen Backgrounds!
Click the picture for free screens!