Custom Hats - Military Ball Caps
CustomHat
Custom hats for US Navy, Marines and Coast Guard Ball Caps. Yeah, Yeah we do Army & Air Force too! We can custom make you a hat and write anything. We can do almost any Naval Warship even 100 years ago. Our two standard Navy hats are made of 100% cotton and have velcro closures and are available in 6 different colors: navy, black, red, army green, brown and white. We can imprint the back and side panels for an additional fee.
You tell us what you want if we can, we make it for you!
The officers crest, submarine dolphins and Vietnam war ribbons can be put on any hat, you choose the location. Just look at the detail in this 3D design. To get this detail it cost a little extra but your hat can be washed.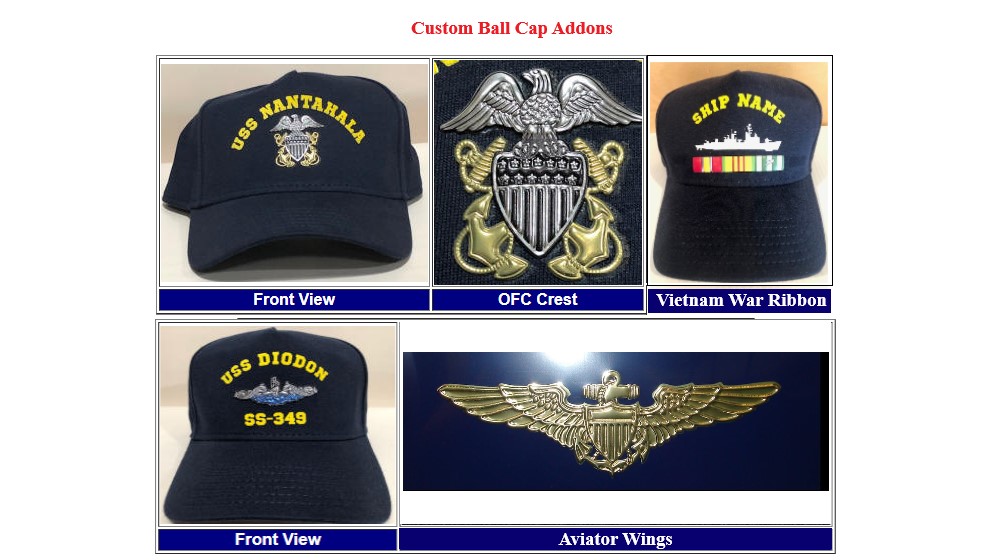 We now will be making custom hats "what you want it to say" with a variety of US Navy items, such as Rating Badges, and Symbols and Chevrons in a raised lettering not embroidered. Raised lettering enables us to do jobs quicker and with more options for you. We can do many ship silhouettes as well as USMC Eagle/Globe.
Imprinting on the back and side panels is $6.00 extra for each panel. We can imprint on either side, but we recomment the LEFT side. We can even print on the brim. Grouping - Crow, Rating and Chevrons can only be done in Silver.
US Navy Rating Listings
AEROGRAPHERS MATE
AVN BOATSWAINS MATE
AVN MACHINISTS MATE
AVN WARFARE SYSTEMS
BOAT SPECIAL WARFARE
NAVY BUILDER
NAVY CORPSMAN
CULINARY SPECIALIST
DISBURSING CLERK
ELECTRONICS TECHNICIAN
ENGINEMAN
EXPLOSIVE ORD DISPOSAL
GUNNERS MATE
INTERIOR COMMUNICATIONS
NAVY LEGALMAN
MASS COMMUNICATIONS
MISSILE TECHNICIAN
PHOTOGRAPHERS MATE
NAVY RADIOMAN
SPECIAL WARFARE OP
TORPEDOMANS MATE
NAVY SONAR TECHNICIAN

AIRCREW SURVIVAL
AVN ELECTRICIANS MATE
AVN MAINTENANCE
NAVY BOAT SPECIAL WARFARE
BOATSWAINS MATE
CONSTRUCTION ELECTRICIAN
NAVY COUNSELOR
DAMAGE CONTROL MAN
NAVY DIVER
ELECTRONIC WARFARE
EQUIPMENT OPERATOR
FIRE CONTROLMAN
HULL MAINTENANCE TECH
INTEL SPECIALIST
MACHINE REPAIRMAN
MASTER-AT-ARMS
NAVY MUSICIAN
NAVY POSTAL CLERK
SHIPS SERVICEMAN
STEEL WORKER
NAVY UTILITIESMAN
USMC Eagle/Globe

AIR TRAFFIC CONTROLLER
AVN ELECTRICIANS TECH
AVN ORDNANCE MAN
AVN STRUCT MECHANIC
BOILER TECHNICIAN CAP
CONSTRUCTION MECHANIC
CRYPTOLOGIC TECHNICIAN
NAVY DENTAL MAN
ELECTRICIANS MATE
ENGINEERING AIDE
FIRE CONTROL TECHNICIAN
GAS TURBINE TECHNICIAN
INFORMATION SYSTEMS
NAVY JOURNALIST
MACHINISTS MATE
NAVY MINEMAN
OPERATIONS SPECIALIST
NAVY QUARTERMASTER
NAVY SIGNALMAN
STORE KEEPER
NAVY YEOMAN
PO1, PO2 or PO3