Toll free 800 - 845-1140
Shipping will be added to all orders, we always endeavor to give you the best rate >>> Click for Rates.
If you have any questions or need help email us, call us or click here for HELP

Civil War Ironclads Ship Models
Excellent kit for a school project or
as a display model. kit # MSRP CW01-
Our Price $GONE
CSS Virginia/Merrimac
In July of 1861, the Confederate Navy began converting the partly-burned hull of the captured Union wooden steam frigate MERRIMACK to an Ironclad.
Rechristened the CSS VIRGINIA, she set forth in March, 1862 to do battle against the blockading U.S. Navy fleet, eventually meeting her match, THE MONITOR.
USS Monitor
Designed and built by John Ericsson, the USS MONITOR became the model for an entire class of 60 gunboats, now known generically as "monitors".
Her uniquely hull, presenting a small target, was sheathed in 1" thick iron plate. The rotating gun turret permitted firing in all directions while underway.
This is a great kit for school projects it's very sought after for history classes that are studying the American Civil War. $Soon
The paint is included in the kit to build the scene as you see on the box. Glue 1.00 extra.


Okay model builders is this an actual color Civil War photo or?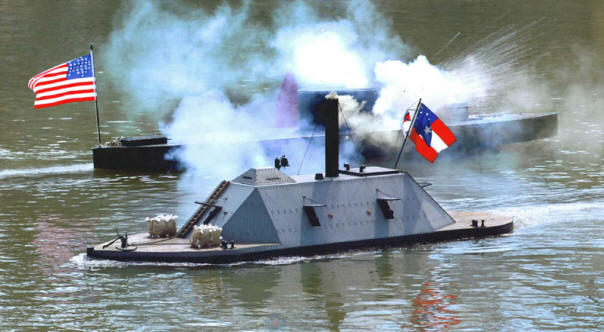 This is an Ironclad built by Howell Upchurch of Georgia.