Toll free 800 - 845-1140
Shipping will be added to all orders, we always endeavor to give you the best rate >>> Click for Rates.
If you have any questions or need help email us, call us or click here for HELP

PT 109 Motor Torpedo Boat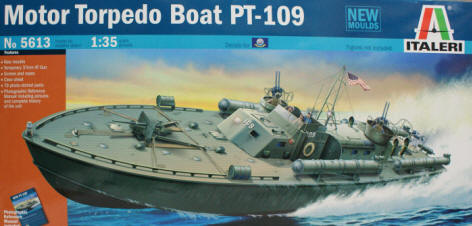 Kit# PT109 1/35 Scale
List Price $189.00 Our Price $149.00

Now Skipper you have your boat were is your crew?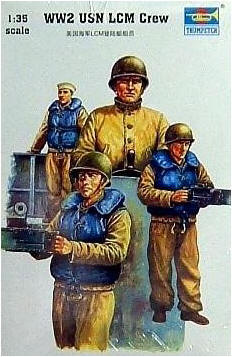 This kit will crew out 6 for your PT-Boat.
Kit 0408 - 24.95
1/35 Scale Brass Propellers 3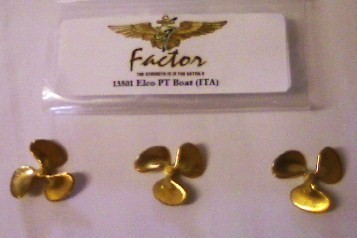 #13501 $27.00
Every historian and American who grew up in the 50's, 60's and 70's can associate PT-109, a WWII torpedo patrol boat, and John Fitzgerald Kennedy, the President of the United States. On April 23, 1943 Lieutenant Junior Grade John Fitzgerald Kennedy was given command of PT-109. They took part in the US invasion of Rendova Island/New Georgia. PT-109 was rammed... "Cut in half"... and left in flames by the Amagiri, an enemy destroyer, on August 2nd 1943. Miraculously only two crewmembers were killed, and only two others were badly injured. The seamen reached Plum Pudding Island 3.5 miles away. Surviving on coconuts and with the help of local islanders the remaining crew and their Captain were rescued. In 2002, the wreckage of PT-109 was located by Robert Ballard.

Life begins again in 1:35...
Different toys and models representing PT-109 have been made since WWII but these models weren't scaled with the precision molding and pinpoint detail accuracy of this kit. With dedication to historical exactness, exhaustive research and engineering excellence, Italeri's Culture of Modeling has brought the PT-109 back to life like never before... aimed at the most seasoned and professional modelers. With the Photo Reference Manual, beautifully detailed instruction documents and photo-etched frets this is the definitive large scale model of one of the most famous boats of all time.
Precision molding, detailed accuracy
Photo Reference Manual written by MRC which includes many little known facts about the PT-109
Over 27" long
Beautifully detailed with photo-etched frets and Cartograf decals