Toll free 800 - 845-1140
Shipping will be added to all orders, we always endeavor to give you the best rate >>> Click for Rates.
If you have any questions or need help email us, call us or click here for HELP

Ohio & Los Angeles Class Submarine Models
Here now ready to go two models in one kit!
Ohio SSBN Class of Nuclear Sub
Los Angeles Class with VLS
You may now order kit# S120 - $Gone

Features:
- Newly tooled radar and antenna
- Two complete models of Ohio- and Los Angeles-class
- New molding for USS Chicago

The Cyber Hobby Orange Box line of 1/350 scale kits has proved a real hit with modelers thanks to its incredibly low pricing point. Now Orange Box is extending its reach into other scales and model lines. The first new combination to become available is a duo of 1/350 scale ship kits, and these appear at an amazing low-budget price. The Orange Box item in question is a pair of US Navy submarines – an Ohio-class and a Los Angeles-class boat. The Ohio-class USS Maryland (SSBN-738) was commissioned in 1992 as a ballistic missile submarine. As a Trident D-5 nuclear-missile platform, it performs an important function as a strategic deterrence tool. The USS Maryland belongs to Submarine Squadron 20 (SUBRON 20) and is based in Georgia. On the other hand, the USS Chicago (SSN-721) is a Los Angeles-class submarine. Commissioned in 1986, the nuclear-powered fast attack submarine is based at Pearl Harbor in the Pacific Ocean.

The kit box contains two complete models of these different class submarines at a very attractive price. The 1/350 scale models are well-engineered, and modelers will find they fit together with ease. Each detailed boat comes with its own display stand so that owners can show off their finished handiwork. A new molding was realized for the USS Chicago in order to reproduce the sonar protrusion, plus new radar mast was created. Cartograf decals are also available to adorn the finished submarine models, including an impressive Chicago Bull marking for the bow of the USS Chicago. Modelers seeking to build up their underwater fleets will not want to miss this attractive bargain from the expanding Orange Box line.
---
Builders: Newport News Shipbuilding Co.; General Dynamics Electric Boat Division.
Power Plant: One nuclear reactor, one shaft
Length: 360 feet (109.73 meters)
Beam: 33 feet (10.06 meters)
Displacement: Approx. 6,900 tons (7010 metric tons) submerged
Speed: 20+ knots (23+ miles per hour, 36.8 +kph)
Ships with VLS order the USS Hampton!
USS Los Angeles (SSN 688), Pearl Harbor, HI
USS Philadelphia (SSN 690), Groton, CT
USS Memphis (SSN 691), Groton, CT
USS Bremerton (SSN 698), Pearl Harbor, HI
USS Jacksonville (SSN 699), Norfolk, VA
USS Dallas (SSN 700), Groton, CT
USS La Jolla (SSN 701), Pearl Harbor, HI
USS City of Corpus Christi (SSN 705), Guam
USS Albuquerque (SSN 706), Portsmouth, NH
USS Minneapolis-St. Paul (SSN 708), Norfolk, VA
USS Hyman G. Rickover (SSN 709), Norfolk, VA
USS Augusta (SSN 710), Groton, CT
USS San Francisco (SSN 711), Guam
USS Houston (SSN 713), Bremerton, WA
USS Norfolk (SSN 714), Norfolk, VA
USS Buffalo (SSN 715), Pearl Harbor, HI
USS Salt Lake City (SSN 716), San Diego, CA
USS Olympia (SSN 717), Pearl Harbor, HI
USS Honolulu (SSN 718), Pearl Harbor, HI
USS Providence (SSN 719), Groton, CT
USS Pittsburgh (SSN 720), Portsmouth, NH
USS Chicago (SSN 721), Pearl Harbor, HI
USS Key West (SSN 722), Pearl Harbor, HI
USS Oklahoma City (SSN 723), Norfolk, VA
USS Louisville (SSN 724), Pearl Harbor, HI
USS Helena (SSN 725), San Diego, CA
USS Newport News (SSN 750), Norfolk, VA
USS San Juan (SSN 751), Groton, CT
USS Pasadena (SSN 752), Pearl Harbor, HI
USS Albany (SSN 753), Norfolk, VA
USS Topeka (SSN 754), San Diego, CA
USS Miami (SSN 755), Groton, CT
USS Scranton (SSN 756), Norfolk, VA
USS Alexandria (SSN 757), Groton, CT
USS Asheville (SSN 758), San Diego, CA
USS Jefferson City (SSN 759), San Diego, CA
USS Annapolis (SSN 760), Groton, CT
USS Springfield (SSN 761), Groton, CT
USS Columbus (SSN 762), Pearl Harbor, HI
USS Santa Fe (SSN 763), Pearl Harbor, HI
USS Boise (SSN 764), Norfolk, VA
USS Montpelier (SSN 765), Norfolk, VA
USS Charlotte (SSN 766), Portsmouth, NH
USS Hampton (SSN 767), Norfolk, VA
USS Hartford (SSN 768), Portsmouth, NH
USS Toledo (SSN 769), Groton, CT
USS Tucson (SSN 770), Pearl Harbor, HI
USS Columbia (SSN 771), Pearl Harbor, HI
USS Greeneville (SSN 772), Pearl Harbor, HI
USS Cheyenne (SSN 773), Pearl Harbor, HI

Crew: 13 Officers, 121 Enlisted
Armament: Tomahawk missiles, VLS tubes (SSN 719 and later), MK-48 torpedoes, four torpedo tubes (Seawolf has 8).
Date deployed: November 13, 1976 (USS Los Angeles)

General Characteristics, Ohio Class
Builders: General Dynamics Electric Boat Division.
Power Plant: One nuclear reactor, one shaft
Length: 560 feet (170.69 meters)
Beam: 42 feet (10.06 meters)
Displacement: 16,764 tons (17,033.03 metric tons) surfaced; 18,750 tons (19,000.1 metric tons) submerged
Speed: 20+ knots (23+ miles per hour, 36.8 +kph)
Ships:
Homeported at the Naval Submarine Base, Bangor, Washington:
USS Ohio (SSBN 726)
USS Michigan (SSBN 727)
USS Florida (SSBN 728)
USS Georgia (SSBN 729)
USS Henry M. Jackson (SSBN 730)
USS Alabama (SSBN 731)
USS Alaska (SSBN 732)
USS Nevada (SSBN 733)
Homeported at the Naval Submarine Base, Kings Bay, Georgia:
USS Tennessee (SSBN 734)
USS Pennsylvania (SSBN 735)
USS West Virginia (SSBN 736)
USS Kentucky (SSBN 737)
USS Maryland (SSBN 738)
USS Nebraska (SSBN 739)
USS Rhode Island (SSBN 740)
USS Maine (SSBN 741)
USS Wyoming (SSBN 742)
USS Louisiana (SSBN 743)
Crew: 15 Officers, 140 Enlisted
Armament: 24 tubes for Trident I and II, MK-48 torpedoes, four torpedo tubes.
Date Deployed: November 11, 1981 (USS Ohio)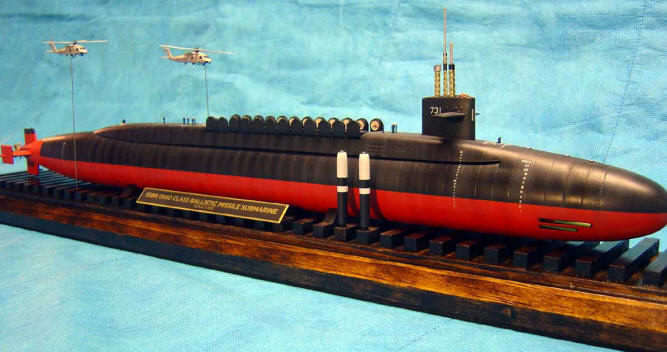 Built by Jason Stone from modelwarships.com