Toll free 800 - 845-1140
Shipping will be added to all orders, we always endeavor to give you the best rate >>> Click for Rates.
If you have any questions or need help email us, call us or click here for HELP

LST's - Landing Ship Tank
LST's -- Large Slow Targets. This model is 15" long
and can be built to make a very nice display model.
Kit# AX111 $29.95 Our price $24.95 decals for all ships hull #'s 5.00 extra.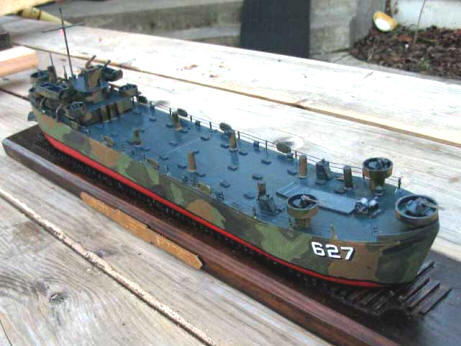 LST-627 by Kieran Griffith
built this inexpensive kit added
a great paint job and railings on a wooden base she looks
like she's ready for the Pacific War. For pics click below.
modelshipgallery.com
Essential Skills Scale Modeling


Were you a teenager the last time
you built a model?


A step-by-step introduction to scale modeling basics.
Beginning scale modelers are full of questions:
What kinds of models are there? What kinds of tools
do I need? What glue works best?
How do I put a model together?
How are the decals applied?
Finally, Kalmbach offers answers to
all these beginner questions and more.

This new book is filled with more pictures
and how to articles than their other book.


List $21.95 Our Price BK01 19.95
Additional Links
U.S. Navy > Historic Amphibious Landing Craft
Small Boats and Large Slow Targets; Oral Histories of United States' Amphibious Forces Personnel in WWII, Robert E. Witter (Pictorial Hostires: 1998)

Displacement: 1490 tons (lite); 4,080 tons (full load of 2,100 tons)
Length: 327'
Beam: 50'
Draft: 8' fwd; 14'4" aft (full load)
Speed: 10.8 knots (max); 9 knots (econ)
Armament: 1 3"/50 DP; 1 40mm; 6 20mm
Complement: 7 officers, 204 enlisted
Diesel engines, twin screws
LSTs carry smaller craft topside, a tunnel-like hold full of tanks, vehicles, guns or cargo.
1,152 ordered from Nov 41 to the end of the War