Toll free 800 - 845-1140
Shipping will be added to all orders, we always endeavor to give you the best rate >>> Click for Rates.
If you have any questions or need help email us, call us or click here for HELP

Personalized Hospital Ship Prints
#NA111
8x18 inch Color Ship Profile Drawing by Geo. Bieda.
8x18 inches rolled in a tube: $65.00

To really understand the great deal on our frames click here.
This a great gift for any Navy Doctor or Nurse
that served on a Navy Hospital Ship.
Any extra information can be put at the
bottom of the order form.
---
AH: HOSPITAL SHIPS: We can do ALL ships
USS Refuge, USNS Mercy, USNS Comfort
This is a sample of a Commission print for the USNS Mercy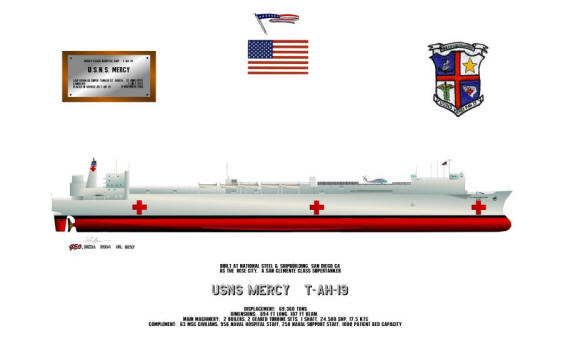 ---