Toll free 800 - 845-1140
Shipping will be added to all orders, we always endeavor to give you the best rate >>> Click for Rates.
If you have any questions or need help email us, call us or click here for HELP

Personalized Naval Aircraft Prints
We can put your name under the cockpit give us your
plane, squadron, aircraft, nose, tail #'s we do it all.
#NA111
8x18 inch Color Ship Profile Drawing by Geo. Bieda.
8x18 inches rolled in a tube: $65.00

To really understand how nice our frames are click here.

This makes a great gift to someone special that served in the Navy.
We will also add their NAME, RANK & YEARS OF SERVICE.
At no extra cost.
We know your not ordering a ship pretend your plane or tank is a ship!
Any extra information can be put at the
bottom of the order form.
We can give a wheels up picture with either grey or blue sky!
---
Patrol Bombers: PBY-5 Catalina, P-2V Neptune, VP-1 "Screaming Eagles" P-3C, VP-8 "Tigers" P-3C, VP-17 "White Lightnings" P-3C, VP-26 "Tridents" P-3C, VP-30 "Pro's" P-3C, VP-46 "Grey Knights" P-3C, VP-40 " Fighting Marlins" P-3C, VP-65 "Tridents" P-3C, VP-69 "Totems" P-3C, VP-94 "Crawfishers" P-3C, CP-140 "Aurora", NRL NP-3D, EP-3E "Aries", NASA NP-3A, P-3 AEW "Blue Sentinel", YP-3A, CINCPACFLT P-3B, NOAA WP-3D, E-2C "Hawkeye", TBM "Avenger". All P-3 & P2V Squadrons are available!

---

Fighters: NAWC F14, VF-84 "Jolly Rogers" F-14, A-4E, F-4U Corsair, F-4F Wildcat, A-1H Skyraider (AD), F-4B Phantom II,

---

Helicopters: HH-60H Seahawk, SH-2 Seasprite, SH-60B Seahawk, HH-60B Seahawk. HH-3F Pelican, HH-65 Dolphin, HH-52A Sea Guard, HH-60J Jayhawk, All Squadrons Available!

---
All Navy & USMC Aircraft
Yes we do non Navy aircraft Montages too!
This is a sample montage we did for a Navy Pilot.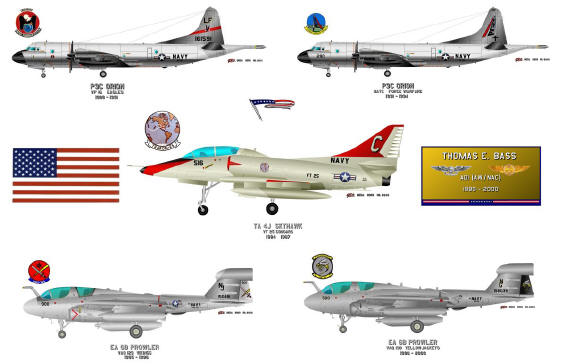 All Naval Aircraft!
This is an example of a USMC 2D aircraft print call for pricing!