Toll free 800 - 845-1140
Shipping will be added to all orders, we always endeavor to give you the best rate >>> Click for Rates.
If you have any questions or need help email us, call us or click here for HELP

Virginia Class Submarine Models
this is a Built model
Great looking model $28.95 kit#S131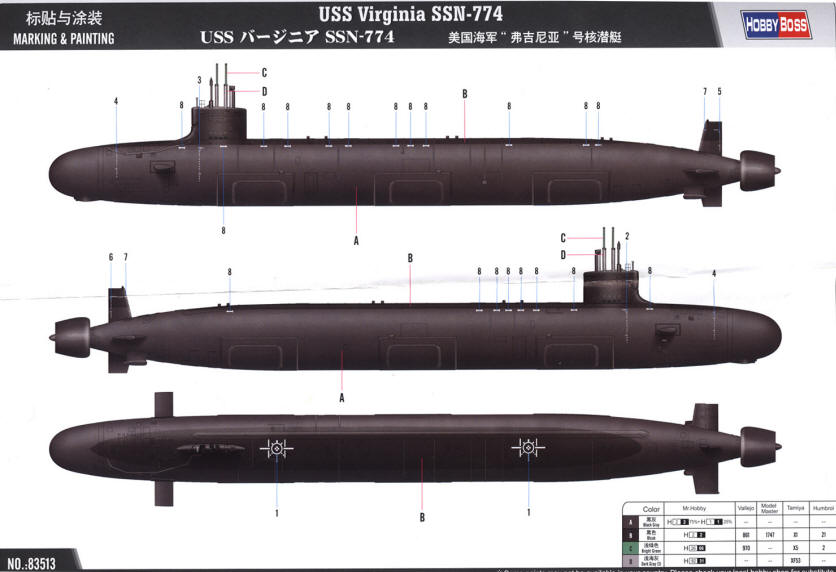 General Characteristics, Virginia class
Builders: General Dynamics Electric Boat Division and Newport News Shipbuilding.
Power Plant: One nuclear reactor, one shaft
Length: 377 feet (114.91 meters)
Beam: 34 feet (10.36 meters)
Displacement: Approx. 7,800 tons (7,925.18 metric tons)
Speed: 25+ knots (28+ miles per hour, 46.3+ kph)
Cost: about $1.65 billion each (based on FY95 dollars and 30-ship class)
Ships:
SSN 786 - 791 - Under contract.
USS Virginia (SSN 774), Groton, CT
USS Texas (SSN 775), Pearl Harbor, HI.
USS Hawaii (SSN 776), Pearl Harbor, HI
USS North Carolina (SSN 777), Pearl Harbor, HI
USS New Hampshire (SSN 778), Groton, CT
USS New Mexico (SSN 779), Groton, CT
USS Missouri (SSN 780), Groton, CT.
California (SSN 781), No homeport - Christening scheduled for November 6, 2010
Mississippi (SSN 782), No homeport - Construction began February 2007
Minnesota (SSN 783), No homeport - Construction began February 2008.
North Dakota (SSN 784), No homeport - Construction began March 2009.
John Warner (SSN-785), No homeport - Construction began March 2010
The New Attack Submarine is designed for multi-mission operations and enhanced operational flexibility. SEAWOLF (SSN-21)-Class
quieting has been incorporated in a smaller hull while military performance has been maintained or improved.
Compared with the Seawolf, the Virginia Class SSN is slower, carries fewer weapons,
and is less capable in diving depth and arctic operations. On the other hand, the Virginia Class is expected to be as quiet as the Seawolf,
will incorporate a vertical launch system and have improved surveillance as well as special operations characteristics to enhance littoral warfare capability.
While the 688-I submarines are noisier than the improved Russian Akula class, the Seawolf is quieter than Akula and the upcoming Russian SSN-P-IX class.
The primary design driver for the Virginia Class SSN is acoustic quietness equal to that of the Seawolf, even at the cost of reducing maximum top speed.
With a focus on the littoral battle-space, the Virginia Class Submarine has improved magnetic stealth,
sophisticated surveillance capabilities, and Special Warfare enhancements.
The Hobby Boss kit measures 12 1/2 inches long and is a perfect starter kit.