Toll free 800 - 845-1140
Shipping will be added to all orders, we always endeavor to give you the best rate >>> Click for Rates.
If you have any questions or need help email us, call us or click here for HELP

HMS Illustrious 1/700 Scale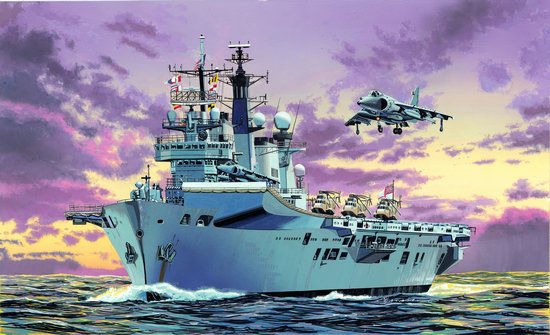 HMS Illustrious new high detail kit # A239 - $GONE

Features:
-Newly tooled bow flight deck is correctly detailed
-Highly detailed Goalkeeper CIWS is new
-Newly tooled radar has full detail
-New Harrier GR.9 and EH101 MH Mk.I included as
bonus
-Radar parts reproduced in photo-etched part
-Waterline and full-hull versions included in box
-Sea King AEW2A included
-Cartograf decals with accurate markings

HMS Illustrious (R06), current Fleet Flagship of the Royal Navy, is the fifth vessel to bear this name. Known affectionately by its crew as "Lusty", the Invincible-class light aircraft carrier was commissioned on 20 June 1982 while steaming on its way to the Falkland Islands in the wake of the Argentine invasion. HMS Illustrious has served in a number of operations around the world, including Bosnia, Sierra Leone, and it participated in the evacuation of nationals caught up in the 2006 Lebanon crisis. Dragon has re-launched a 1/700 scale version of HMS Illustrious, this time as a Premium Edition kit. This means it has undergone a serious "refit" and "upgrade" such as the unique bow ski-jump that allows Harriers to takeoff with larger payloads. And what use would an aircraft carrier be without aircraft? Therefore, the kit includes a complement of newly tooled Harrier GR.9 aircraft and Merlin EH101 MH Mk.1 helicopters.

As per usual for Premium Edition kits, the kit offers both a waterline hull and a full hull, which gives modelers the choice of which version they prefer assembling. The radar and Goalkeeper CIWS are brand new items, and to provide greater accuracy, a number of the radar components are made from photo-etched metal. This model kit of "Lusty" is an exciting new addition to the illustrious Premium Edition range, and it does indeed make a suitable flagship for modelers' Royal Navy collections!

Essential Skills Scale Modeling


Were you a teenager the last time
you built a model?


A step-by-step introduction to scale modeling basics.
Beginning scale modelers are full of questions:
What kinds of models are there? What kinds of tools
do I need? What glue works best?
How do I put a model together?
How are the decals applied?
Finally, Kalmbach offers answers to
all these beginner questions and more.

This new book is filled with more pictures
and how to articles than their other book.


List $21.95 Our Price BK01 19.95