Toll free 800 - 845-1140
Shipping will be added to all orders, we always endeavor to give you the best rate >>> Click for Rates.
If you have any questions or need help email us, call us or click here for HELP

How to display a Model Ship.
Do you want to add pizazz to your ship model it's quick and easy.

This was created with balsa sticks cut a the same length placed close
to each other to make it look keel blocks from a dry dock. They were glued
to the base then the base was stained & varnished then the ship was glued
to the blocks or just placed on the blocks simple, creative and inexpensive.
We sell balsa strips 1/4 x 1/4 x 36" for 2.50 plus a base board you are all set.
| | | |
| --- | --- | --- |
| | | |
| | | |
Plastic covered Display Cases with Black Bases.
| | | |
| --- | --- | --- |
| 2518 | 14L x 3.5W x 4H | 12.95 |
| 2519 | 10.25L x 2.5W x 4H | 9.00 |
| 2530 | 19.6L x 5.8W x 6H | 34.95 |
| 2531 | 10.2L x 2.6W x 2.6H | 7.00 |
Or just put a few sticks down on the base.
This base below was made from a piece of wood from a Home Depot or a lumber yard less than 8.00.
The picture is from arnoldshipmodels.com a professional builder.
World war II Gearing kit form DML kit!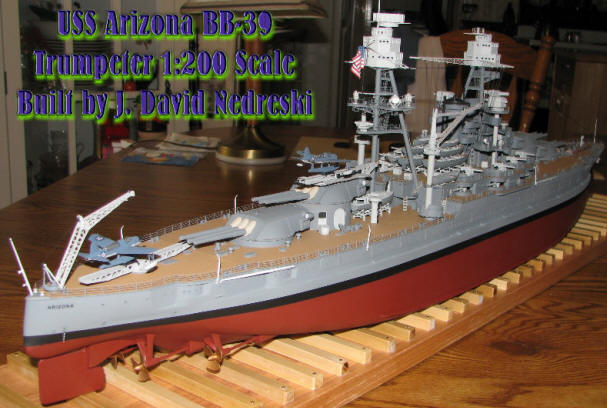 USS Arizona by Trumpeter in 1:200 scale, mounted on oak with basswood strips.
As you can see David very easily cut all the strips the same size and then
nailed them to a piece of oak an varnished the whole base, simple but elegant.
Picture USS Hunt in Dry Dock note the Keel Blocks.
Below is another inexpensive display
I/700 Submarine model $7.00. Wooden base bought at Michael's Art Store $1.95
Looking at my built diorama = Priceless.