Toll free 800 - 845-1140
Shipping will be added to all orders, we always endeavor to give you the best rate >>> Click for Rates.
If you have any questions or need help email us, call us or click here for HELP

USS John F. Kennedy
1/350 scale 3 feet long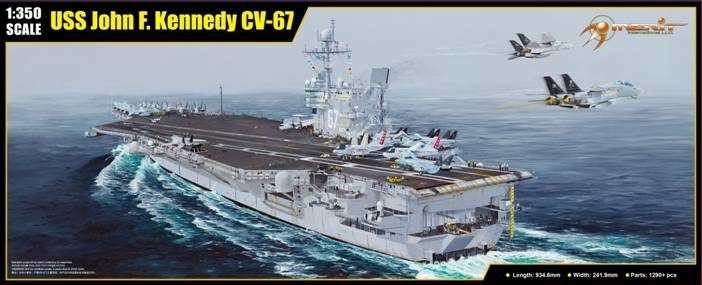 JFK receives rocking chair on board the USS Kitty Hawk
| | |
| --- | --- |
| Over 1300 parts | Detailed Hangar Deck |
| 2 Photo-etched sheets | Includes: 1/350 Aircraft: |
| 35 Sprues and Hull and Decks | E2C Hawkeye x 2 |
| Decals Sheet | S-3A Viking x 2 |
| A little over 3ft in length | F-18F Super Hornet x 5 |
| Beam 9 ½ inches | EA-6B Prowler x 5 |
| One Piece Hull | F-14B/D Tomcat x 5 |
| Detailed Flight Deck | |
This will be out this Summer 2015 List Price $240.00 our Price $Call First

USS John F. Kennedy (CV-67)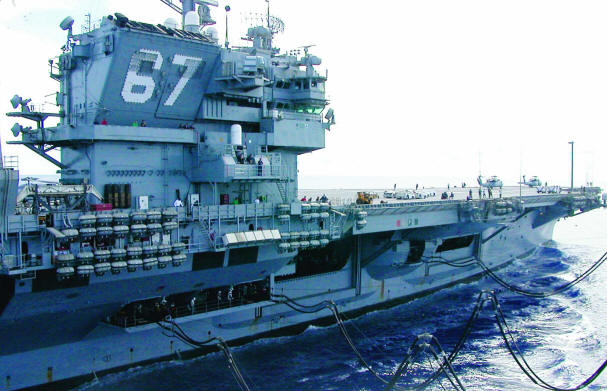 The keel for United States Ship John F. Kennedy was laid on October 22, 1964 at the Newport News Shipbuilding and Dry-dock Company in Virginia. Christened on May 27, 1967 by President Kennedy's 9-year-old daughter, Caroline, JFK entered active service on September 7, 1968. When JFK was commissioned, she received the designation CVA-67*. This designation remained until the early 1970's when her classification was changed to CV 67, indicating the JFK was capable of supporting anti-submarine warfare aircraft, making JFK an all purpose, multi-mission carrier. It was also during the early 70's that JFK made a number of deployments to the Mediterranean Sea. It was on the fourth of these cruises that JFK made her first port visit to a North Atlantic port, Edinburgh, Scotland.

During 1978 JFK logged 12,438 arrested landings and 31,568 flight hours. The Kennedy then entered a year-long major overhaul period. In 1981 JFK made her first deployment to the Indian Ocean. While on this cruise JFK served as the first United States ship to be visited by a Somali head of state, transited the Suez Canal, and logged it's 150,000th arrested landing. Due to the growing crisis in Beirut, JFK was called upon in 1983 to support US operations in the area. During the one year period that the Kennedy spent in and out of the Beirut Theater of Operations, JFK earned her 9th Battle "E" efficiency award.

After spending the winter of 1984 in dry-dock at Norfolk Naval Shipyard, JFK served as the centerpiece of a vast international armada for the Naval Review held in honor of the 100th Anniversary and Rededication of the Statue of Liberty during July of 1986. Shortly thereafter, JFK departed once again for the familiar waters of the Mediterranean, returning in the spring of 1987.

On January 4, 1989 while conducting routine flight operations in international waters on her 12th Mediterranean cruise, F-14's assigned to the Kennedy shot down two Libyan Mig-23's that were approaching the battle group in a hostile manner. JFK returned home to Norfolk, Virginia in the spring of 1989 for a short industrial period. In mid 1990, JFK paid a visit to New York City for Fleet Week '90 and was in Boston for the fourth of July. Then in early August, JFK deployed for the Red Sea to support Operation Desert Shield. JFK arrived in the Red Sea in September 1990 and was chosen as the flagship of the Commander, Red Sea Battle Force. On January 16, 1991, aircraft from the embarked air wing, Carrier Air Wing THREE (CVW 3), began Operation Desert Storm as part of a multi-nation coalition to drive Iraq out of neighboring Kuwait. Throughout the war, aircraft from JFK flew 2,895 sorties and 114 strikes delivering over 3.5 million pounds of ordnance over 11,263 combat hours. Following the cease fire, JFK passed through the Suez Canal for the fourth time in seven months and began her journey home. When JFK arrived in Norfolk, VA on March 28, 1991, her crew was witness to the greatest homecoming celebration and outpouring of public support since World War II. JFK then spent the next four months in the Norfolk Naval Shipyard where extensive repairs and maintenance on engineering and flight deck systems made the Kennedy ready to handle the F/A-18 Hornet to replace the aging A-7E Corsair II's that had flown off the Kennedy's deck during her last deployment.

The JFK's next deployment, from Oct. 7, 1992 until April 7, 1993 was her 14th to the Mediterranean Sea. This cruise was marked by the developing turmoil in the former Yugoslavia. Through the deployment, JFK hosted many visitors, both in port and at sea, and conducted numerous joint exercises with armed forces from Mediterranean littoral nations and spent most of her time in the Adriatic Sea. JFK passed another milestone by logging her 250,000th arrested landing on December 8, 1992. Upon returning from the Med, JFK entered the Philadelphia Naval shipyard for a two-year comprehensive overhaul. JFK completed this overhaul on September 13, 1995 and began her journey to her new homeport at Naval Station Mayport in Mayport, FL. JFK's latest deployment was from April 1997 to October 1997 and marked her 15th major deployment to the Mediterranean.