Toll free 800 - 845-1140
Shipping will be added to all orders, we always endeavor to give you the best rate >>> Click for Rates.
If you have any questions or need help email us, call us or click here for HELP

HMS Antelope Type 21 Frigate
30th Anniversary Falklands War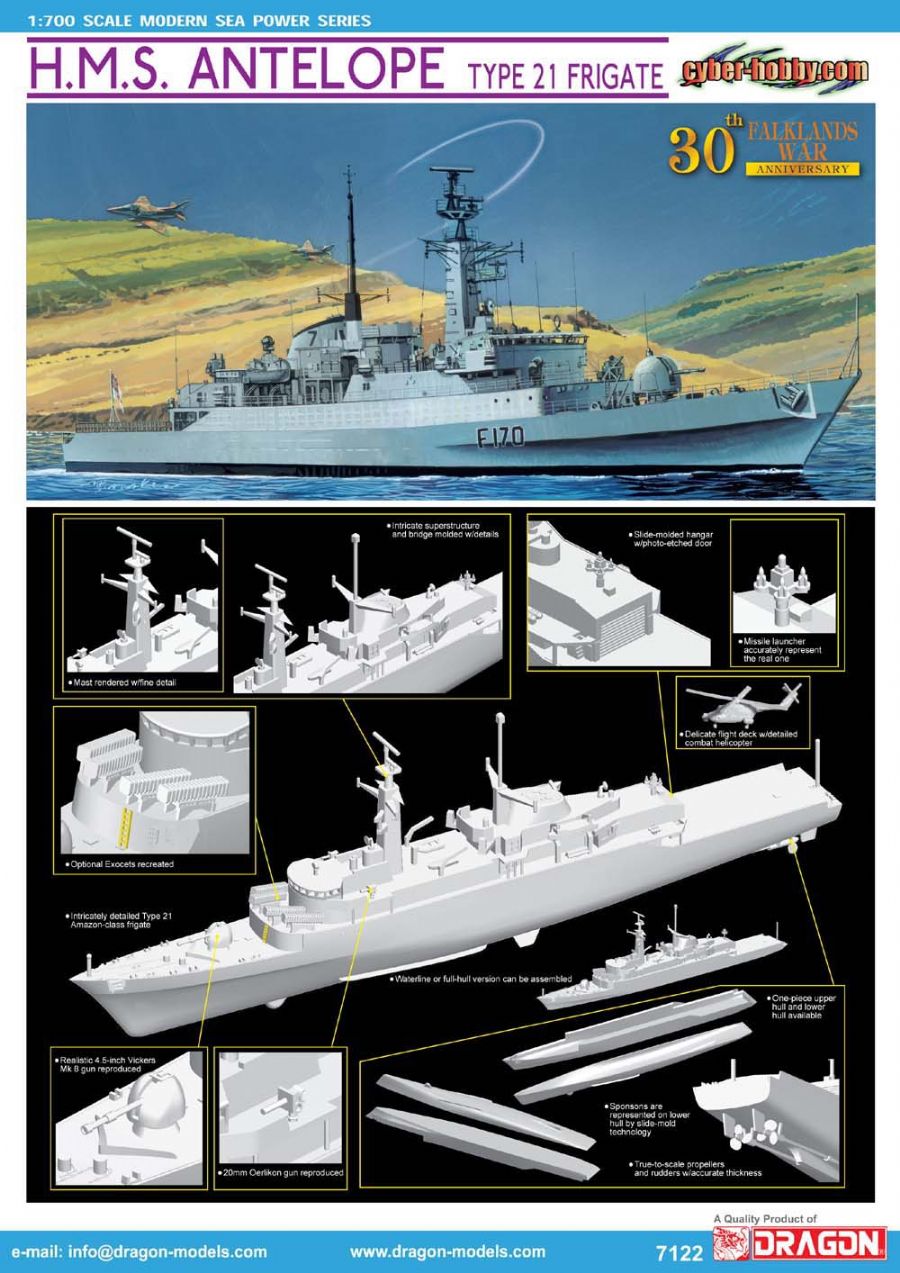 Kit# DEC224 $30.95 1/700 Scale

Features:
Intricately detailed Type 21 Amazon-class frigate

Waterline or full-hull version can be assembled

Optional Exocets recreated

Newly tooled triple ASW torpedo tubes

Intricate superstructure and bridge molded w/details

Mast rendered w/fine detail

Slide-molded hangar w/photo-etched door

Navigation radar is realistically produced

Delicate flight deck w/detailed combat helicopter

One-piece upper hull and lower hull available

Sponsons are represented on lower hull by slide-mold technology

True-to-scale propellers and rudders w/accurate thickness

Realistic 4.5-inch Vickers Mk 8 gun reproduced

20mm Oerlikon gun reproduced
The Royal Navy (RN) received eight Type 21 Amazon-class frigates in the 1970s, the first of class being HMS Amazon, which was commissioned in 1974. HMS Antelope (F170) was the second frigate built. Commissioned into service on 17 July 1975, this ship was distinguished by being the only Type 21 vessel not fitted with Exocet missiles. Antelopeís best known for the fact that she was lost during the Falklands War against Argentina. On 23 May 1982, whilst on air defense watch as she protected the British beachhead at San Carlos, the frigate was attacked twice. The first attack by two A-4B Skyhawks was repelled, although a 1,000lb bomb hit the ship and failed to detonate. A short time later, a second pair of Skyhawks attacked and another bomb pierced the hull, again without exploding. When attempting to defuse the unexploded munitions, one bomb detonated. It ripped the hull open and started catastrophic fires. HMS Antelope had to be abandoned and it sank the following day. The use of large quantities of aluminum alloy in the superstructure later raised questions about the materialís resistance to fire.
On the 30th anniversary of the shipís loss in combat, Cyber-Hobby is proud to announce a 1/700 scale plastic kit of HMS Antelope. The model accurately depicts the frigate as it appeared during the Falklands War in 1982. It comes from completely new toolings, with only the 4.5-inch Mark 8 main gun and helicopter being re-employed from previous releases. As is customary, the kit is supplied with both a full hull and a waterline hull to allow modelers the choice of assembly. The superstructure is accurately recreated using slide-molded components, and the very latest tooling technology ensures all parts are crisply detailed. The kit also includes sharply registered Cartograf decals. HMS Antelope met an untimely end in the cold waters of the South Atlantic Ocean, but now Cyber-Hobby has raised the frigate to new heights in modeling terms on its 30th anniversary.