Toll free 800 - 845-1140
Shipping will be added to all orders, we always endeavor to give you the best rate >>> Click for Rates.
If you have any questions or need help email us, call us or click here for HELP

USS Skipjack 1/72 Scale
40" long super model
It's here now!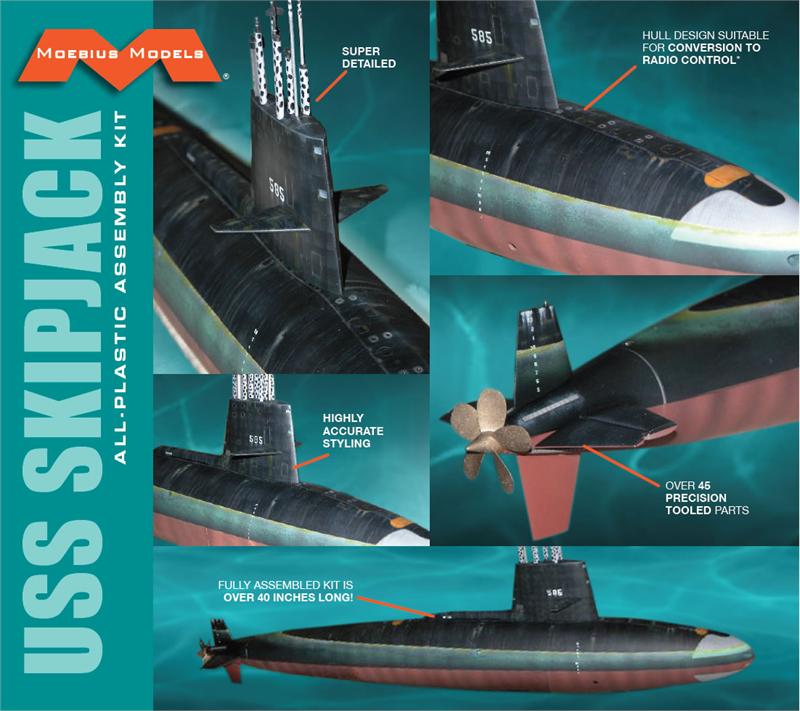 The unpainted 40" model Kit #S126A
list price 119.99 our price 94.95 free shipping in 48 states.
A little extra to Hawaii, Alaska and Canada.
These are the parts for the kit - 40" long.
Keel laid down by Electric Boat Div., General Dynamics Corp., Groton, CT, 29MAY56;
Launched: 26MAY58; Sponsored by Mrs. George H. Mahon;
Commissioned: 15APR59 with LCdr William W. Behrens, Jr. in command;
Decommissioned and struck from the Navy List 19APR90;
Disposal through SRP at PSNS completed 17MAR96.
USS SKIPJACK (SSN-585) was the proto-type which mated nuclear power with an Albacore hull. During her shakedown cruise in August 1959, she became the first nuclear ship to pass through the Straits of Gibraltar and operate in the Mediterranean Sea. Following post-shakedown availability at Groton, Connecticut, the nuclear submarine conducted type training and participated in an advanced Atlantic submarine exercise from May through July 1960. The remainder of the year was spent in a restricted yard availability and upkeep.
SKIPJACK commenced her 1961 operations by participating in two weeks of type training followed by antisubmarine warfare exercises through August, visiting Mayport, Florida, before returning to Groton.
In January 1962, SKIPJACK operated out of Key West, Florida, for two weeks before entering Portsmouth Naval Shipyard for extensive overhaul, lasting four and one-half months. Following her return to New London, Connecticut, the submarine operated locally prior to departing in October for duty in the Mediterranean with the 6th Fleet. During this tour, SKIPJACK participated in various fleet and NATO exercises and visited Toulon, France and La Spezia and Naples, Italy, before returning to New London.
The year 1963 was occupied in submarine attack operations and ASW exercises, all designed to test the capabilities of the nuclear-powered attack submarine. The highlight of 1964 was two months of duty with NATO forces, participating in exercises "Masterstroke" and "Teamwork" and visiting Le Havre, France, and Portland, England, before returning to New London in October.
After devoting most of 1965 to training exercises, the submarine ended the year by entering Charleston (SC) Naval Shipyard for an overhaul that lasted until 18 October 1966. SKIPJACK then got underway for sea trials off Charleston, before joining USS SHARK (SSN-591) for four days of type training in the Jacksonville, Florida area. She then sailed to her new home port, Norfolk, Virginia, before participating in Atlantic Fleet exercises.
Early in February 1967, SKIPJACK got underway for sonar and weapon tests and then participated in Atlantic submarine exercises from March through June. July and August were spent in restricted availability at the Newport News Shipbuilding & Drydock Co., following which SKIPJACK took part in FIXWEX G-67, an exercise designed to evaluate fixed wing ASW aircraft against a submarine with SKIPJACK's characteristics. Following an extended deployment in October and November, the submarine returned to Norfolk to prepare for major operations of that year which she completed on 25 February 1968. The remainder of 1968 was spend in local operations in the Norfolk area.
On 9 April 1969, SKIPJACK commenced an overhaul in the Norfolk Naval Shipyard which was completed in the fall of 1970. After sea trials in December 1970, SKIPJACK returned to her regular duties.
Highlights of 1971 were sound trials and weapons system tests at the Atlantic Fleet Range, Puerto Rico, from 25 January through 5 March and NATO exercise "Royal Night" from 15 September to 9 October. On 22 October, SKIPJACK returned to Norfolk, where she remained through January 1972.
SKIPJACK spent most of 1972 in tests and type training out of New London and Norfolk and in the Caribbean. the submarine returned to Norfolk late in the year and remained in the area into 1974.
SKIPJACK was decommissioned and struck from the Navy List on 19 April 1990. Her disposal through SRP was completed at PSNS on 17 March 1996.
These subs can be built from this kit.
Name
Builder
LD
LCH
COM
STATUS
SSN.585 Skipjack
EBC
May.29/56
May.26/58
Apr.15/59
DECOM Apr.19/90
stricken Apr.19/90
NPSSRP Mar.1/97
SSN.588 Scamp
MINY
Jan.23/59
Oct.8/60
Jun.5/61
DECOM Apr.28/88
stricken Apr.28/88
NPSSRP Oct.1/90-May.15/91
SSN.589 Scorpion
EBC
Aug.20/58
Dec.29/59
Jul.29/60
lost May.22/68
400 miles west of Azores
cause unknown
SSN.590 Sculpin
INGSB
Feb.3/59
Mar.31/60
Jun.1/61
DECOM Nov.3/89
stricken Mar.31/90
to NPSSRP
in storage at PSNY
SSN.591 Shark
NNS
Feb.24/58
Mar.16/60
Feb.9/61
deactivated Oct.16/86
DECOM Sep.15/90
NPSSRP Oct.1/95-Jun.28/96
SSN.592 Snook
INGSB
Apr.7/58
Oct.31/60
Oct.24/61
DECOM Oct.16/86
stricken Nov.14/86
NPSSRP Oct.1/96
---