Toll free 800 - 845-1140
Shipping will be added to all orders, we always endeavor to give you the best rate >>> Click for Rates.
If you have any questions or need help email us, call us or click here for HELP

KM Zerstroyer 1/350 Scale or 1/700 Scale
WWII Destroyer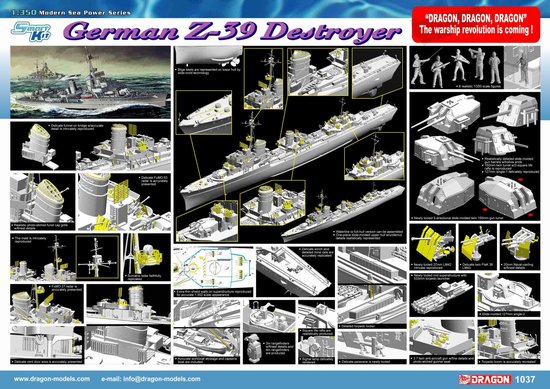 DC312 super detailed with photo-etching 6" or 12" long
can be built as either waterline or full hull model.
1/350 Scale $55.95
Features:
- Newly tooled 3-directional slide-molded twin 150mm gun turret
- Newly tooled 37mm LM42 intricate reproduced
- Newly tooled mid superstructure with 533mm torpedo launcher
- Delicate paravane is newly tooled
- Waterline or full-hull version can be assembled
- One-piece slide-molded upper hull w/undercut details realistically represented
- Bilge keels are represented on lower hull by slide-mold technology
- Realistically detailed slide-molded gun barrels w/hollow ends
- 150mm twin turret w/2-square life rafts is reproduced
- 127mm single-1 delicately reproduced
- Delicate twin Flak 38 LM43
- 20mm Naval-vierling w/finest details
- Slide-molded 127mm single-2
- 3.7 twin anti-aircraft gun w/fine details and photo-etched gunner seat
- Torpedo boom is accurately recreated
- 6 realistic 1/350 scale figures
- Extra-thin shield walls on superstructure reproduced for accurate 1/350 scale appearance
- Delicate winch and detailed mine rails are accurately replicated
- Accurate workboat stowage and captains boat are included
- 3m rangefinders w/finest details and 4m rangefinders are produced
- Square life rafts are realistically produced
- Signal lamp delicately rendered
- Detailed torpedo locker
- Delicate funnel on bridge w/accurate detail is intricately reproduced
- Realistic photo-etched funnel cap grills w/finest details
- Delicate FuMO 63 radar is accurately presented
- The mast is intricately reproduced
- Sumatra radar faithfully replicated
- FuMO 27 radar is accurately presented
- Delicate vent door area is accurately presented

Earlier this year Dragon launched its exquisitely detailed Scharnhorst battleship in 1/350 scale. This stunning kit raised the bar to new heights, and quickly established a benchmark in plastic ship kits. Dragon is now following up this success with a second German ship in the same 1/350 scale – the Z-39 destroyer. Dragon created the best German battleship kit in the market, and now done the same with a German destroyer!

Though this kit of Z-39 is smaller than the Scharnhorst, there is no reduction at all in the level of detail. This is a brand new kit with all-new tooling, with only the launch and twin 3.7cm anti aircraft guns being reused from the preceding model. The kit is produced with the highest levels of engineering and molding excellence. The gun turrets, for example, are finely and fully detailed. The destroyer can be assembled as a full-hull or waterline-hull model. A comprehensive selection of photo-etched parts are available to upgrade this sophisticated plastic kit. To finish it off, there are even some miniature figures to add, three of which are in completely new poses. This is an amazing kit, and is a most worthy partner to the Scharnhorst!