Toll free 800 - 845-1140
Shipping will be added to all orders, we always endeavor to give you the best rate >>> Click for Rates.
If you have any questions or need help email us, call us or click here for HELP

Gleaves Class Destroyer Ship Models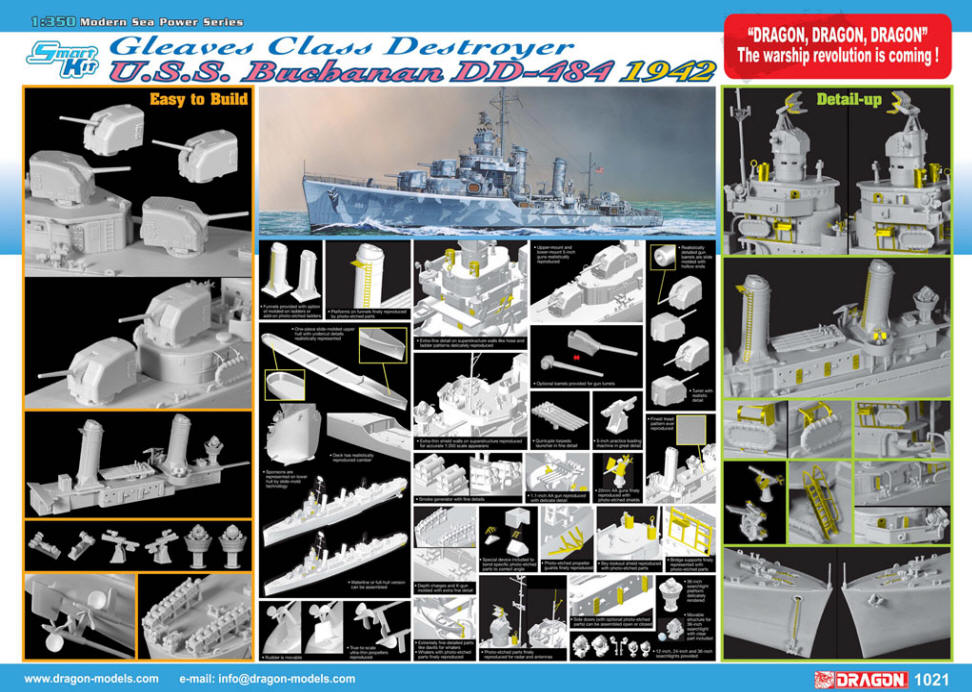 Gleaves Class Destroyer Models
DD-484 USS Buchanan
All ships of the class can be built. List Price $55.95. Our Price $ GONE
Kit# DC157
For an extensive review on this kit click here!
The Dragon model kit depicts the ship as she appeared in 1942.
The kit measures 11.5 inches long. A multimedia kit comprised of a plastic ship model, a single piece lower hull (full hull or waterline construction) this will be a superb plastic model from Dragon Models.
You can now super detail this model!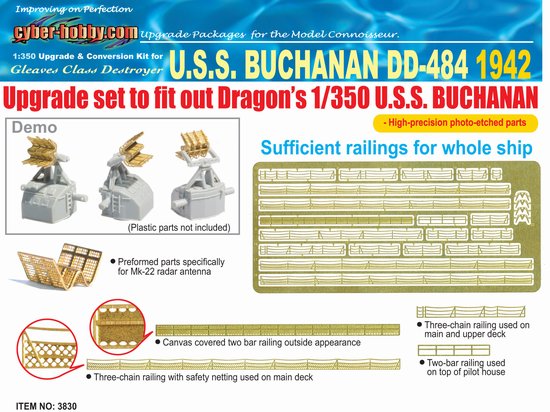 This item DML3830 -$18.95
Special Features:

- One piece slide molded upper hull with undercut details realistically represented
- Waterline or full hull version can be assembled
- Sponsons are represented on lower hull by slide mold technology
- Rudder is movable
- True to scale ultra thin propellers reproduced
- Extra thin shield walls on superstructure reproduced for accurate 1/350 appearance
- Extra fine detail on superstructure walls like hose, ladder patterns delicately reproduced
- Extremely fine detailed parts like davits for whalers
- Whalers with photo etched parts finely reporduced
- Finest tread pattern ever reproduced
- Funnels provided with option of molded on ladders or add on photo etched ladders
- 12 inch, 24 inch and 36 inch searchlights provided
- 36 inch searchlight platform delicately rendered
- Movable structure for 36 inch searchlight with clear part included
- Special device included to bend specific photo etched parts to correct angle
- Realistically detailed gun barrels are slide molded with hollow ends
- Turret with realistic detail
- Optional barrels provided for gun turrets
- Upper mount and lower mount 5 inch guns realistically reproduced
- Quintuple torpedo launcher in fine detail
- 5 inch practice loading machine in great detail
- 1.1 inch AA gun reproduced with delicate detail
- 20mm AA guns finely reproduced with photo etched shields
- Smoke generator with fine detail
- Depth charges and K-gun molded with extra fine detail
- Platforms on funnels finedly reproduced by photo etched parts
- Photo etched propeller guards finely reproduced
- Sky-lookout shield finely represented with photo etched parts
- Bridge supports finely represented with photo etched parts
- Photo etched parts finely reproduced for radar and antennas
- Side doors (with optional photo-etched parts) can be assembled open or closed
- 6 realistic 1/350 scale figures
- New Paper materials is pliant and robust stickers for signal flags
- New Cartograf decal, including the deck walkway texture

About The U.S.S. Buchanan
The USS Buchanan (DD-484) had an eventful career in WWII. This Gleaves-class destroyer, named after a Confederate Navy admiral, was commissioned on March 21, 1942. The vessel served in the Pacific, taking part in such battles as Guadalcanal, Iwo Jima and Okinawa. This destroyer holds the honor of having shuttled General MacArthur to and from the USS Missouri to accept the Japanese surrender in Tokyo Bay on August 30, 1945. As well as this, the ship endured such misfortunes as being hit by friendly fire, running aground and colliding with another destroyer during its combat tours! Such a colorful ship requires an equally outstanding model, so Dragon has carefully developed this innovative model of the USS Buchanan as it appeared in 1942.

This Smart Kit represents a milestone in 1/350 warship kits, raising and establishing the bar in one bold presentation. Employing brand new thinking, design and engineering, this model represents a whole series of technological breakthroughs. A one-piece upper hull made from slide molds, sponsons expertly made with hitherto untried techniques, and use of photo-etched components, are just a few examples of the innovation found within its keel. New types of multimedia materials have been especially developed for this kit, from the pliant paper fiber used to represent flags, to the decals representing the deck walkway texture. There are even miniature figures included to populate this impressive model. This destroyer may possess an unprecedented level of detail, but Dragon's clever engineering means it remains easy and pleasurable to assemble. The real USS Buchanan was turned over to the Turkish Navy in 1949, but it's this new model from Dragon that's turning heads amongst ship modelers all around the world!

[_private/ashey2.htm]
---
United States Benson-Livermore Class Destroyers
Class of 1937-39
Backbone of the Destroyer Navy from 1940-1942
Benson-Livermore destroyer class synonyms::
Benson class, Mayo class, Gleaves class, Livermore class, Bristol class.

Benson-Livermore Class Destroyers :