Tacoma Class frigates, based on the British-designed River class, were ocean escorts built in US Maritime Commission yards. These yards built ships to merchant rather than military standards. The River design was adapted to US mass production techniques and equipped with triple expansion steam engines. The resulting Tacoma class could be distinguished from British River class vessels by the prominent pole foremast (River class frigates had a tripod foremast) and heavier gun armament. Tacoma class ships bore some resemblance to USN destroyer escorts in size and layout, but were considered inferior due to their structural weakness and larger turning radius. They were also hot below decks, but the design compromises giving rise to these shortcomings enabled mercantile yards such as Kaiser Richmond to turn out large numbers of escorts. This relieved the burden on US Navy shipbuilding facilities, and sheer numbers were more important than quality when it came to escorts. Ninety-six of these frigates were built, 21 of which were turned over to the Royal Navy. US Coast Guard crews manned the remaining ships, and towards the end of the war 28 of them were loaned to the Soviet Navy for use in the planned invasion of Japan.[_private/ashey2.htm]

Vital Statistics

Tacoma Class Patrol Frigates
Length: 285.5'(wl) 304' (oa) Beam: 37'6" Draft: 8' (13.75' full load)
Displacement: 1,430 tons (2,415 tons full load)
Armament: three 3"/50 cal (3x1), four 4mm AA (2x2), nine 20mm (9x1)
One Hedgehog spigot mortar aft of "A" mount
8 depth charge throwers, 2 depth charge roller racks
Performance: 5,500 shp, 20 knots Range: 9,500 miles @ 12 knots
Complement: 180 officers and men (214 wartime)
Ships in Class: 77, named after smaller US cities as follows

1 Asheville, 2 Natchez, 3 Tacoma, 4 Sausalito, 5 Hoquiam, 6 Pasco, 7 Albuquerque, 8 Everett,
9 Pocatello,10 Brownsville, 11 Grand Forks, 12 Casper, 13 Pueblo, 14 Grand Island, 15 Annapolis,
16 Bangor, 17 Key West, 18 Alexandria, 19 Huron, 20 Gulfport, 21 Bayonne, 21 Grand Rapids,
22 Gloucester, 23 Shreveport, 24 Muskegon, 25 Charlottesville, 26 Poughkeepsie, 27 Newport,
28 Emporia, 30 Hingham, 32 Woonsocket, 33 Dearborn, 34 Long Beach, 35 Belfast, 36 Glendale,
37 San Pedro, 38 Coronado, 39 Ogden, 40 Eugene, 41 El Paso, 42 Van Buren, 44 Corpus Christi,
45 Hutchinson, 46 Bisbee, 47 Gallup, 48 Rockford, 49 Muskogee, 50 Carson City, 51 Burlington,
52 Allentown, 53 Machias, 54 Sandusky, 55 Bath, 56 Covington, 57 Sheboygan, 58 Abilene,
59 Beaufort, 60 Charlotte, 61 Manitowoc, 62 Gladwyne, 63 Moberley, 64 Knoxville, 65 Uniontown,
66 Reading, 67 Peoria, 68 Brunswick, 69 Davenport, 70 Evansville, 71 New Bedford, 93 Lorain,
94 Milledgeville, 99 Orlando, 100 Racine, 101 Greensboro, 102 Forsythe,
PF's 72-92 Transferred to Great Britain, PF's 95-98 Canceled

The Iron Shipwright USS Burlington is a Tacoma class frigate in its final WW2 configuration. It is a one-piece full-hull resin model that scales out to within 1% of published dimensions. Cleanup consisted of sanding smooth the jagged casting gate along the keel and filling adjoining pinholes. I use thick super glue smeared over the rough area and sanded smooth. It's not crucial that one remove every blemish on the hull bottom, since this area is largely out of view. Above decks there were some voids in several of the mushroom vents and ready-use boxes. I repaired these with plastic rod dipped in super glue and trimmed flush with the adjoining piece.

The hull casting is very "busy", especially the highly detailed forward 3" mounts and hedgehog launcher. There is much surface detail, especially near the 40mm and 20mm tubs amidships. Aside from guns and fittings, there are only six deck level resin parts of significance: the bridge structure forward of the pole mast, two small port and starboard 20mm tubs below the bridge, funnel, aft 3" gun deck and aft triple 20mm tubs. Fit between these parts and the main hull casting was problem-free.

In studying references I discovered several omissions and minor errors that the modeler should consider fixing.
The Mk 51 director tubs were omitted from the model and there is no mention of them in the instructions. I scratch built a pair using plastic tube and brass rod. They are located just forward of the 40 mm tubs equidistant from the centerline (these are the small white cylindrical tubs in the accompanying photos).

Consider adding additional vents in the midship area near the 40mm tubs.

There is a "vegetable locker" aft of the funnel (white rectangular structure in the photos).

The davits supplied with the model are of the hoist type, but the plans show gravity davits. I modified left-over gravity davits from another model and used them in place of the kit-supplied parts.
Other details you may wish to add are cable reels on the aft 3" mount and floater net baskets (just forward of the 40mm tubs along the port and starboard deck edge).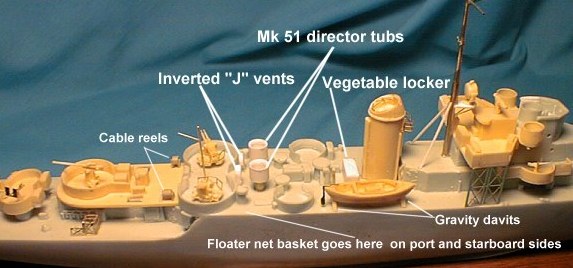 The prominent pole mast is scratch built from brass rod (included in the kit but not in my pre-production review sample). Two struts support the pole mast. There are no locator holes for these details, though the instructions provide a template. A dimple or some other locator point would have been preferable. The prominent SA radar that sits atop the pole mast was omitted from the brass fret. This oversight will be remedied in later versions of the Burlington kit, and Iron Shipwright will supply them free of charge.
The actual buildup was easy and fast. Both the 3" and 40mm guns are especially nice, and the model has a very cluttered look that makes it visually appealing. There are two depth charge roller racks and eight depth charge thrower racks on the quarterdeck. Add the deck edge carley floats and you have a very busy little frigate.
Two brass frets are included: a generic railing fret (not shown) and a fret specific to the Burlington. I especially like IS etched brass, an overlooked aspect of their kits. It strikes just the right balance between scale appearance and brass thickness. Too thin and the brass deforms easily, too thick and it doesn't look right. The Iron Shipwright brass is also well engineered and minimizes "brass to brass" gluing problems. Insofar as there were problems, they were errors of omission. The SA radar, lookout seats, floater net baskets and rudder for ship's boat should have been included.
Instructions are not a strong point with IS kits, though the Burlington set is adequate. There is a numbered parts list but no paint instructions. Most of the photos I've seen show these frigates in either Ms 12 or Ms 22 paint schemes. Check out John Sheridan's camo site at http://www.shipcamouflage.com/measures.htm for colors and application details. The instructions show the two bridge-level elevated tubs (port and starboard) containing searchlights. This is incorrect. These are observation lookouts. They contained seats with brackets on which were mounted binoculars. These parts are not included on the brass fret. As an aside, Iron Shipwright has informed me that future instructions, to be produced using CAD, will be much improved.
Beginners shouldn't have any problem with the Burlington. I've pointed out omissions and minor errors to assist in detailing this nice little kit, and Iron Shipwright will supply the missing tubs and radar free for the asking. I find myself building primarily destroyer-size subjects (and smaller) in 1:350 scale. They go together fast and give me the satisfaction of completing something without months of effort. I simply don't have the time to build large subjects, much as I'd like to. I recommend the Burlington to those of you wanting a quick build of a rarely modeled (but numerous) WW2 escort vessel.