Toll free 800 - 845-1140
Shipping will be added to all orders, we always endeavour to give you the best rate >>> Click for Rates.
If you have any questions or need help email us, call us or click here for HELP

41-Foot Utility Boat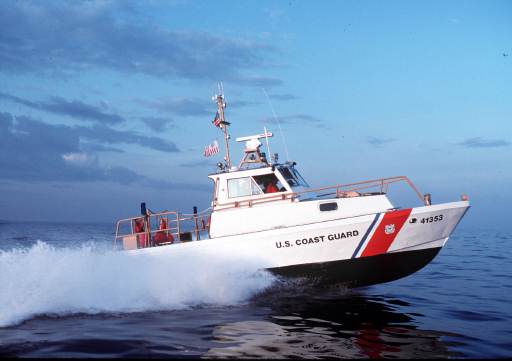 Kit# CG003 $149.95 31" long suitable for R/C contact for info.
Length: 41 feet
Maximum Range: 300 miles
Maximum Speed: 25+ knots
Primary Use: Search and Rescue/Law Enforcement
Typical Crew: 3 Enlisted Personnel (Coxswain, Engineer, Crew member)
Notes: Large Utility Boat
The 41' UTB is the general workhorse at multi-mission units.
It is designed to operate under moderate weather and sea conditions where its speed and maneuverability make it an ideal platform for a variety of missions.
There are presently 172 operational boats.
THE KIT: In 1963 the pleasure boating industry was booming like never before.
Unfortunately business was also booming for the U. S. Coast Guard with more boating accident than ever before.
They found their answer in their new 41' Motor Utility boat.
Powered by twin 180 HP diesel engines, the boat could achieve speeds of 15 knots and in tests it towed a 100 ton 95 foot patrol boat, she proved to be a decent little tug as well.
Kit #1214 is the all wood version which features plank-on-frame balsa strip construction, with cleanly die-cut parts for construction of the superstructure.
39 cast fittings and a distinctive Coast Guard insignia decal top off this kit.

Wooden Ship Models
Depending on a person's knowledge and skill level,
kit-built models range from a poor, sloppy job all the way to perfection.
This book will help those with limited wood experience to achieve success and eventually build a first rate kit model.
BK03 18.95