Toll free 800 - 845-1140
Shipping will be added to all orders, we always endeavour to give you the best rate >>> Click for Rates.
If you have any questions or need help email us, call us or click here for HELP

Soviet Akula R/C Boat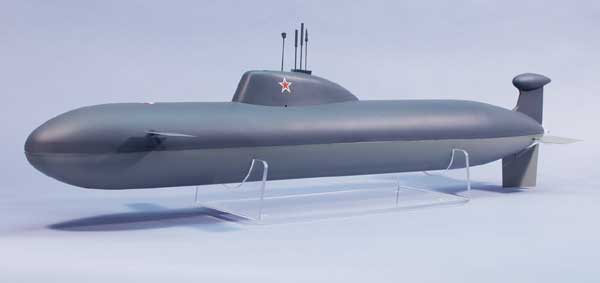 Dive, Dive............
You are in the hunt during the Cold War on patrol ( don't forget to check
your sonar) you surface and check the area for enemy ships. You are the Captain of your own submarine, commander of your crew, your the boss.

Experience the excitement with the Soviet Akula from Dumas Boats.
This is a 33" long model of a Soviet Akula class sub it has a beam of 4"
and weighs about 5lbs. ready to run. This "dynamic diver" submarine
is recomended for pool or boat pond only and has a maximum diving
depth of four feet depending on water conditions. The kit contains
sturdy vacuum formed parts including hull, deck, motor mounts and
sails, and complete driveline hardware.
This is a kit that you build yourself with a great set of instructions.

Just the kit $160.00 -- kit# S843


You'll need these 3 other items also to radio control it.
Great saving on an exciting package. One of the industries most talked about products with all the necessary radio gear. Get Everything you need
in one easy purchase..
Complete $400.95
Save bucks and hassels when compared to purchasing all components separately.
Or buy them one at a Time!
| | | | |
| --- | --- | --- | --- |
| | | | |
| 6 Volt Elect. #2004 | Speed Control | NiCad Bat. Pack | Any 3 channel Radio |