Toll free 800 - 845-1140
Shipping will be added to all orders, we always endeavor to give you the best rate >>> Click for Rates.
If you have any questions or need help email us, call us or click here for HELP

Angled Deck Essex Class Carriers Cold War, Vietnam War Configuration
USS Oriskany CVS-34
Essex Class Carrier decals to build any ship in the class.
When you buy from Totalnavy.com free Decals.
This kit has been gone for close to 25 years. It's Back!
Kit A601B Not $30.95 but our price $26.95 plus free decals.
When you buy the kit from totalnavy, you get FREE Carrier Decals!
The Essex Class Carriers from 1950's to the 1980's
FEATURES:
Highly detailed plastic pieces molded in grey and clear
Version CVS-34
4 type SH-3D helicopters & 8 aircraft
Full hull with drive equipment
Engraved angled deck
2 movable elevators
Authentic armaments
Reproduction superstructures with radar equipment
Waterslide decals, Illustrated instructions

Attention all Essex Aircraft Carrier veterans you can now build
a replica of the ship plus new numbers and names for the fantail.
Post War II Carrier Decals FREE when you buy the kit from Totalnavy.com
NAV100 $7.95
---
Now if you really want to super detail your ship add this!
Photo-etched Set 50.00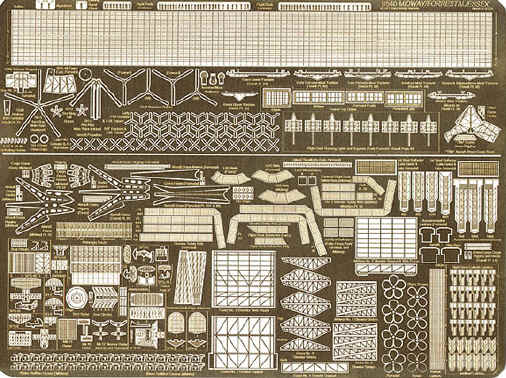 Make your ship look like this!
Post WWII Angled Deck USS Randolph
We have added hyperlinks to each Carrier Click your Ship below!
Attention all Essex Aircraft Carrier veterans you can now build
a replica of the ship you served on in a detailed plastic Model.
---
Back to Catalogue

Essex Class Carriers
The Essex class of carriers was, though you may argue that point, in my opinion the best weapon in the world when commissioned, and stayed the best carrier class until the Midway class became available in October of 1945.
The Essex class was the successor of Hornet. Just as Hornet, it was designed after the limitations of the Washington Treaty were lifted in1936, and it was thus not necessary to obey to any rules other than those dictated by common sense. As a result, a class was devised which was to follow five main rules:
They were to be able to carry four squadrons of 18 planes, plus another squadron in reserve.
They were to be able to launch and recover planes faster than usual.
The were to carry 25% spares for her planes, as it was thought that US carriers would stay longer at sea than her counterparts.
They were to be survivable in combat and able to serve a long time.
They were to be upgradeable.
Each of these rules was followed. When USS Essex was commissioned into the Navy in early January, 1943, the US Navy had received all it had wanted. The carrier was able to carry up to a hundred planes, and, due to a aircraft lift to the port side of the flight deck, she was able to recover her planes while storing them in the hangar, and likewise for launching.
The ships were also highly survivable. During the two years the Essex class saw service in the Pacific, none of them was sunk, not even under the worst circumstances. This includes the devastation of USS Franklin, hit by two bombs off Okinawa in March 1945, during the preparations for the landing there. She suffered horrible fires aft, destroying planes and exploding "friendly" bombs. With 724 dead and 265 wounded, the carrier's captain was given permission to abandon the ship, but refused and saved Franklin. Bunker Hill, Admiral Marc Mitscher's flagship, was hit by two Kamikazes in May, 1945, and survived as well, with 389 dead or missing, and 264 wounded.
This may be to a great part attributed to the reluctance of the crews to let their ships die, but also to the rugged construction inherent in this class.
The Essex class saw heavy service in the Pacific, beginning with the occupation of the Gilbert Islands in Mid-1943, and the second carrier raid on Rabaul, with Essex, Bunker Hill and the light carrier Independence. Throughout the war, the Essex class was the spearhead of all Central Pacific operations, and temporarily supported the South Pacific thrust of General Mac Arthur. Planes from these carriers were responsible for the decimation of Japanese air units in the Marianas, the Philippines, Formosa, and eventually Japan itself. With these carriers, the US Navy build up what was called the "Air Navy", and with these carriers, the US Navy became the most powerful navy in the world.
The Essex class was also highly adaptable to modern technologies, and although not important in the World War 2 context, the Essex class was to receive steel and angled flight decks to permit operation of jet fighters. The service of these great ships was
welcome addition to the US Forces in Korea and in Vietnam.
The last Essex was scrapped in 1989.
Ships in class: