Toll free 800 - 845-1140

We are an Authorized ARIBA Vendor

Use your
GSA Cards

Shipping will be added to all orders, we always endeavour to give you the best rate >>> Click for Rates.
If you have any questions or need help email us, call us or click here for HELP


Our hats will be using a raised lettering to enable us
to do jobs quicker and with more options for you.

Yes we do many ship silhouette also!
We now will be making custom hats "what you want it to say" with a variety
of US Navy items, such as Rating Badges, and Symbols and Chevrons
in a raised lettering not embroidered. Also USMC Eagle/Globe
5 Panel 100% Cotton/Algodon
At present our hats have a Snapback Closure
We are carrying 3 different colors hats Navy , Black and White
and yes we imprint the back also! 6.00 extra
Hear are some samples that we have done for customers.
| | |
| --- | --- |
| | |
| Request Navy Dentist | Customer very happy with his hat. |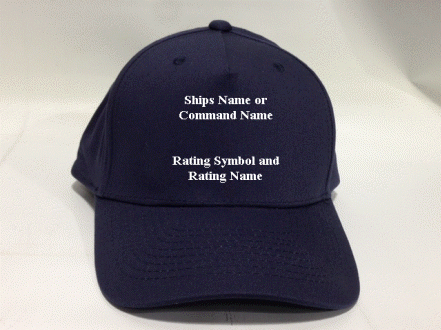 Our Hats are 19.95 and they ship in a week or less!
The shipping of 7.00 will be added to your invoice.
Hats we have done for customers.
Attention US Marines were you aboard a ship?
We have your hat too with the Eagle/Globe.
US Navy Rating Listings
| | | |
| --- | --- | --- |
| AEROGRAPHERS MATE | AIRCREW SURVIVAL | AIR TRAFFIC CONTROLLER |
| AVN BOATSWAINS MATE | AVN ELECTRICIANS MATE | AVN ELECTRICIANS TECH |
| AVN MACHINISTS MATE | AVN MAINTENANCE | AVN ORDNANCE MAN |
| AVN WARFARE SYSTEMS | NAVY BOAT SPECIAL WARFARE | AVN STRUCT MECHANIC |
| BOAT SPECIAL WARFARE | BOATSWAINS MATE | BOILER TECHNICIAN CAP |
| NAVY BUILDER | CONSTRUCTION ELECTRICIAN | CONSTRUCTION MECHANIC |
| NAVY CORPSMAN | NAVY COUNSELOR | CRYPTOLOGIC TECHNICIAN |
| CULINARY SPECIALIST | DAMAGE CONTROL MAN | NAVY DENTAL MAN |
| DISBURSING CLERK | NAVY DIVER | ELECTRICIANS MATE |
| ELECTRONICS TECHNICIAN | ELECTRONIC WARFARE | ENGINEERING AIDE |
| ENGINEMAN | EQUIPMENT OPERATOR | FIRE CONTROL TECHNICIAN |
| EXPLOSIVE ORD DISPOSAL | FIRE CONTROLMAN | GAS TURBINE TECHNICIAN |
| GUNNERS MATE | HULL MAINTENANCE TECH | INFORMATION SYSTEMS |
| INTERIOR COMMUNICATIONS | INTEL SPECIALIST | NAVY JOURNALIST |
| NAVY LEGALMAN | MACHINE REPAIRMAN | MACHINISTS MATE |
| MASS COMMUNICATIONS | MASTER-AT-ARMS | NAVY MINEMAN |
| MISSILE TECHNICIAN | NAVY MUSICIAN | OPERATIONS SPECIALIST |
| PHOTOGRAPHERS MATE | NAVY POSTAL CLERK | NAVY QUARTERMASTER |
| NAVY RADIOMAN | SHIPS SERVICEMAN | NAVY SIGNALMAN |
| SPECIAL WARFARE OP | STEEL WORKER | STORE KEEPER |
| TORPEDOMANS MATE | NAVY UTILITIESMAN | NAVY YEOMAN |
| NAVY SONAR TECHNICIAN | USMC Eagle/Globe | PO1, PO2 or PO3 |