Toll free 800 - 845-1140
Shipping will be added to all orders, we always endeavour to give you the best rate >>> Click for Rates.
If you have any questions or need help email us, call us or click here for HELP

USS Lexington CV-16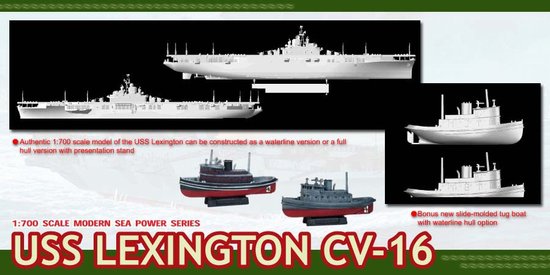 A111C - $45.95

Each time DML makes a new kit they add a new item
look at those 1/700 scale tug boats. This kit icludes
Photo-etched parts & Cartograph decals.
Main Features:
- true to 1:700 scale
- newly tooled whip antenna
- whip antennas also can be formed out of photo-etched metal
- flight deck which replicates CV-16's
- completely new twin 20mm and Army M45 0.50 quadruple anti-aircraft MGs and mounts
- new superstructure parts ("island") corresponding to the arrangement used on the Lexington
- contains parts so all hull-side doors can be modeled in an open, half-open or closed position - flight deck elevators can be posed raised or lowered - option of either a waterline version or a full hull version with presentation stand
- different types of radar provided
- hangar deck with interior details - onboard aircraft comprising SB2C (new-tooled), F6F Hellcat and TBF/M Avenger are conveniently constructed in transparent plastic

BONUS items:
- bonus new-tooled tug boat
- bonus transparent flight deck to show off the interior details

Decals/Photo etched:
- cartograf decals offer accurate marking schemes
- 1:700 photo-etched deck crew is included

About the U.S.S. Lexington (CV-16):
The fifth United States Naval ship named "Lexington" (CV-16), also known as "The Blue Ghost", was laid down as Cabot 15 July 1941 by Bethlehem Steel Co., Quincy, Mass., renamed Lexington 16 June 1942, launched 23 September 1942.

After Caribbean shakedown and yard work at Boston, Lexington sailed for Pacific action via the Panama Canal, arriving Pearl Harbor 9 August 1943. She raided Tarawa in late September and Wake in October, then returned Pearl Harbor to prepare for the Gilbert Islands operation. From 19 to 24 November she made searches and flew sorties in the Marshalls, covering the landings in the Gilberts. Her aviators downed 29 enemy aircraft on 23 and 24 November.

After the war, the Lexington was decommissioned at Bremerton, Wash., 23 April 1947 and entered the Reserve Fleet there. Designated attack carrier CVA-16 on 1 October 1952, she began conversion and modernization in Puget Sound Naval Shipyard 1 September 1953, receiving the new angled flight deck.

Into 1969, Lexington has operated out of her home port, Pensacola, as well as Corpus Christi and New Orleans, qualifying student aviators and maintaining the high state of training of both active duty and reserve naval aviators. Her work has been of increasing significance as she has prepared the men vital to the continuing Navy and Marine Corps operations over Vietnam, where naval aviation played a major role. Lexington marked her 200,000th arrested landing 17 October 1967, and was redesignated CVT-16 on 1 January 1969.

She continued as a training carrier for the next 22 years until decommissioned 8 November 1991. On 15 June 1992, the ship was donated as a museum and now operates as such in Corpus Christi, Texas. She has an IMAX theatre. Lexington has been designated a National Historic Landmark.

Lexington received the Presidential Unit Citation and 11 battle stars for World War II service.