Toll free 800 - 845-1140
Shipping will be added to all orders, we always endeavour to give you the best rate >>> Click for Rates.
If you have any questions or need help email us, call us or click here for HELP

HMS Newcastle Destroyer D87 & HMS Triumph S93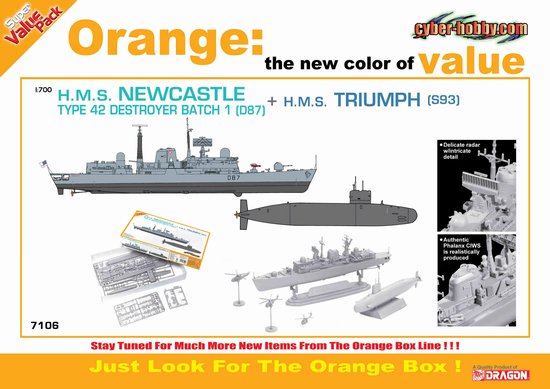 Two detailed kits in one box. DC240 - $23.00
Cyber Hobby is launching into uncharted waters with its latest release in the popular Orange Box range. This time, Orange Box is offering 1/700
scale ship kits for the very first time. Of course, this will please ship fans, for the first release provides Orange Box's trademark uncompromising quality
and unbeatable value for money all in one box! The fist item offers a pair of Royal Navy models – HMS Newcastle (D87) and HMS Triumph (S93).
HMS Newcastle is a Type 42 (Batch 1) destroyer that was originally launched in 1975. In its career, the destroyer has deployed to places like Montserrat,
the Kosovo War and Sierra Leone. HMS Triumph (S93), meanwhile, is a modern Trafalgar-class submarine that was commissioned in October 1991.
It participated in a task force that supported the 2001 invasion of Afghanistan, and launched Tomahawk missiles against Taliban targets inside the country.

Both these Royal Navy models, which have been released separately in earlier days, are built to exacting standards in 1/700 scale.
The vessels fit together precisely thanks to the degree of engineering excellence inherent in their design.
These ships can either be built as standalone items, or they could equally be set into an impressive diorama.
This Orange Box set is an ideal way for ship modelers to expand their fleet, and with this particular set, both the surface and underwater fleets can be strengthened!