Toll free 800 - 845-1140
Shipping will be added to all orders, we always endeavour to give you the best rate >>> Click for Rates.
If you have any questions or need help email us, call us or click here for HELP

USS New York LPD-21
All San Antonio Class LPDs can be built with this kit and new hull numbers.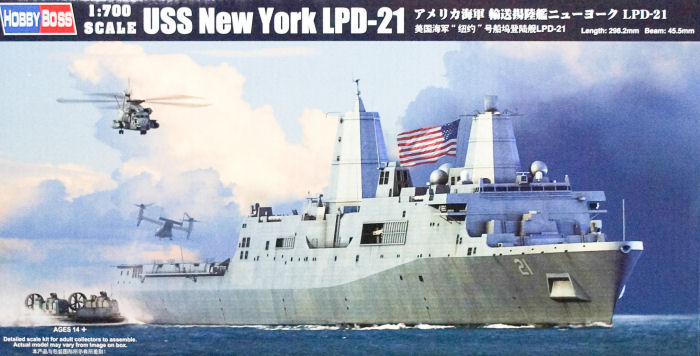 AX149 - $52.95 - 11" long USS New York.
Other Ship & #s $59.95
Decals for other ships' Hull #s in the Class extra.
To order Decals to change the ships hull #s to build any ship in the Class Click below
General Characteristics, San Antonio class
Builder: Northrop Grumman Ships Systems, with Raytheon Systems Corporation and Intergraph Corporation.
Propulsion: Four sequentially turbocharged marine Colt-Pielstick Diesels, two shafts, 41,600 shaft horsepower.
Length: 684 feet (208.5 meters).
Beam: 105 feet (31.9 meters).
Displacement: Approximately 24,900 long tons (25,300 metric tons) full load.
Speed: In excess of 22 knots (24.2 mph, 38.7 kph).
Crew: Ship's Company: 360 Sailors (28 officers, 332 enlisted) and 3 Marines.
Embarked Landing Force: 699 (66 officers, 633 enlisted); surge capacity to 800.
Armament: Two Bushmaster II 30 mm Close in Guns, fore and aft; two Rolling Airframe Missile launchers, fore and aft: ten .50 calibre machine guns.
Aircraft: Launch or land two CH53E Super Stallion helicopters or two MV-22 Osprey tilt rotor aircraft or up to four CH-46 Sea Knight helicopters, AH-1 or UH-1 helicopters.
Landing/Attack Craft: Two LCACs or one LCU; and 14 Expeditionary Fighting Vehicles/Amphibious Assault Vehicles.
Ships:
USS San Antonio (LPD 17), Norfolk, VA
USS New Orleans (LPD 18), San Diego, CA
USS Mesa Verde (LPD 19), Norfolk, VA
USS Green Bay (LPD 20), San Diego, CA
USS New York (LPD 21), Norfok, VA
San Diego (LPD 22), San Diego, CA. - Christened June 12, 2010.
Anchorage (LPD 23), under construction
Arlington (LPD 24), under construction
Somerset (LPD 25), under construction
Model Features:
- Newly tooled AAV-7A1 included
- Utility crane newly produced
- Bushmaster II 30mm close-in guns newly produced
- Octagonal shaped funnel towers delicately reproduced
- One-piece superstructure accurately presented by slide-molded technology
- Loading ramp includes optional photo-etched parts
- Rolling Airframe missile system on superstructure
- One-piece slide-molded upper hull w/undercut details realistically represented
- Sponsons are represented on lower hull by slide-molded technology
- Waterline or full-hull version can be assembled
- Display stand included for full-hull version
- Delicate air cushioned landing craft included
- Intricate helicopters V-22 and CH-46 included
- Delicate flight deck included
- Stern ramp can be assembled open/closed
- True-to-scale propellers

Cyber-Hobby is releasing another ship kit, this time of USS New York (LPD-21), the fifth San Antonio-class amphibious transport dock vessel to be built. The highly detailed kit is made in 1/700 scale. This kitís being launched to coincide with the tenth anniversary of the 9/11 attacks, as the original ship has a close connection to that tragic day ten years ago. USS New York was partially constructed from 6.8 tons of steel salvaged from the rubble of the World Trade Centre in New York, and it was specifically named in memory of victims of the September 11 attack. Constructed by Northrop Grumman Ship Systems, this LPD can carry up to 700 Marines as well as LCAC hovercraft and MV-22B Osprey aircraft. USS New York was commissioned into the US Navy on November 7, 2009.

USS New York is a brand new tooling from Cyber-Hobby. The model comes with two hulls that allow either a waterline or full-hull version to be built. There is widespread use of slide-mold technology in the creation of this plastic ship, which results in a model thatís easy to assemble but yet one that doesnít lack any essential detail. The hull is slide molded as a single component, and parts are cleverly separated to ensure maximum detail. The main superstructure, for example, is a single piece. An assortment of photo-etched parts includes items like the safety net around the landing deck. Cyber-Hobby also supplies helicopters, an LCAC hovercraft and even MV-22 Ospreys to populate the 1/700 scale replica. With a ship model thatís a breeze to assemble, USS New York is ready to take on terrorist or state enemies anywhere!
Yes we make these prints for you! Click the Picture.