Toll free 800 - 845-1140
Shipping will be added to all orders, we always endeavour to give you the best rate >>> Click for Rates.
If you have any questions or need help email us, call us or click here for HELP

USS Independence LCS-2
1/700 Scale Ship Models

Kit# DC053 $27.95 model is 7.5" long
This ship is in stock now!
USS Independence, USS Fort Worth and USS Coronado

Specifications - LCS Littoral Combat Ship (Flight 0, first generation):
Hull Type: Stabilized Trimaran Monohull
Displacement: 2176 tons (light), 2784 tons (full)
Dead Weight: 608 tons
Length: 418' (oa)
Beam: 93.2' (extreme)
Draft: 13' (Maximum Navigational Draft)
Propulsion: Two gas turbine engines, two propulsion diesels, two water jets
Speed: 47 kts (sprint), 50+ kts (top speed)
Armament: Bofors 57mm naval gun; Rolling Airframe Missile (RAM) launcher; 4 - .50 caliber machine gun mounts
Combat Management System: Northrup Grumman ICMS
Electronics: Ericsson Sea Giraffe (air / surface surveillance, weapon assignment);
Decoy System: 3 - Super RBOC; 2 - Nulka Decoy launchers
Complement: 26
---
Independence (LCS 2) Building and Operational Data:
14 October 2005: Contract Awarded to General Dynamics Corp.
19 January 2006: Laid down at Austal USA, Mobile, Ala.
29 April 2008: Launched
4 October 2008: Christened, sponsored by Mrs. Doreen Scott, wife of Terry D. Scott, 10th Master Chief Petty Officer of the Navy
18 October 2009: Completed builder's trials in the Gulf of Mexico
18 December 2009: Delivered to, and accepted by, the U.S. Navy
16 January 2010: Commissioned at Mobile, Ala., Cdr Kurt A. Renshaw (CO Blue) and Cdr Michael B. Riley (CO Gold) in command

What's in the kit look below.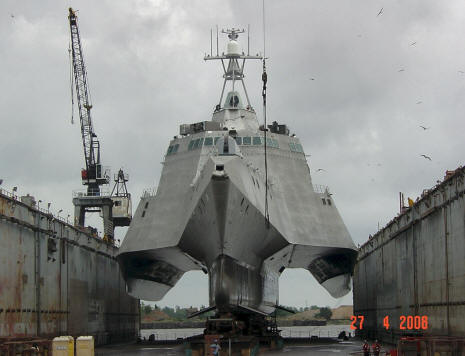 The kit!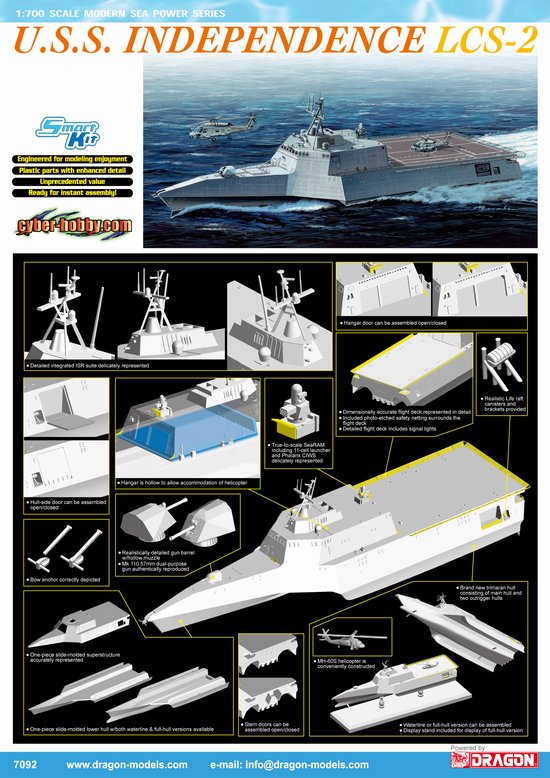 - BRAND NEW TOOLING!!!

Features:
- Detailed integrated ISR suite delicately represented
- Hull-side door can be assembled open/closed
- Hangar is hollow to allow accommodation of helicopter
- True-to-scale Sea RAM including 11-cell launcher and Phalanx CIWS delicately represented
- Hangar door can be assembled open/closed
- Dimensionally accurate flight deck represented in detail
- Included photo-etched safely netting surrounds the flight deck
- Detailed flight deck includes signal lights
- Realistic Life raft canisters and brackets provided
- Bow anchor correctly depicted
- Realistically detailed gun barrel w/hollow muzzle
- Mk 110 57mm dual purpose gun authentically reproduced
- One-piece slide-molded superstructure accurately represented
- One-piece slide-molded lower hull w/both waterline & full-hull versions available
- Stern doors can be assembled open/closed
- MH-60S helicopter is conveniently constructed
- Brand new trimaran hull consisting of main hull and two outrigger hulls
- Waterline or full-hull version can be assembled
- Display stand included for display of full-hull version

Commissioned on January 16, 2010, the Independence (LCS-2) is a brand new class of littoral combat ship for the US Navy. Just a glance at the vessel reveals it is very advanced in concept and design. Based on a trimaran hull, the ship is designed for use as a small assault transport that can be converted easily for other tasks via the use of mission modules. The 127m-long USS Independence can move at sustainable speeds of up to 50 knots, and it is crewed by 40 sailors. The craftís flight deck can accommodate a pair of SH-60 Seahawk helicopters. Despite only entering US Navy service a few months ago, this modern hi-tech naval vessel is now appearing in kit-set form as part of Dragonís 1/700 Modern Sea Power Series.

The sleek and stealthy lines of the USS Independence are beautifully captured in miniature. Although the shape is complex and angular, CAD drawings have enabled the exact shape to be recreated. Being such a new ship, the complete kit is obviously a brand new tooling. Slide-mold technology has allowed the deck and bridge to be manufactured as a single injected piece, which cuts the need for a lot of difficult assembly. As is standard in Dragonís ship kits, modelers have the choice of assembling a full-hull or waterline-hull version. Full of detail such as main weapon systems like the Mk 110 dual-purpose gun and Sea RAM 11-cell launcher, the 1/700 ship even includes a scale SH-70 Seahawk helicopter. Showing how finely scaled the kit really is, this small helicopter can even be parked inside the hangar bay adjoining the flight deck! This ship, this kit, is a truly cutting-edge vessel destined to serve well in the naval collections of modelers for years to come.