Toll free 800 - 845-1140
Shipping will be added to all orders, we always endeavour to give you the best rate >>> Click for Rates.
If you have any questions or need help email us, call us or click here for HELP

HMS Queen Elizabeth British Battleship
1/700 scale 1918
1/350 Scale 1941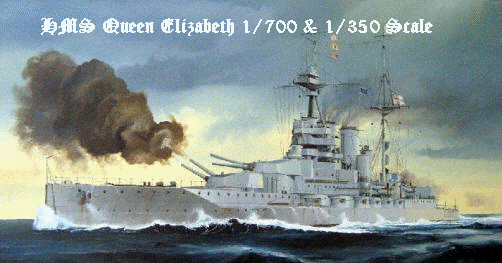 Kit# BB217 - 1/700 Scale $34.95 - BB218 - 1/350 Scale $94.95
Free Shipping in the 48 States Hawaii & Alaska a little extra.
A Built 1/700 Scale Model
This 1/700 scale model come in the 1918 Configurations.
The 1/350 scale model come in the 1941 Configurations.
QUEEN ELIZABETH-Class battleship ordered from HM Dockyard Portsmouth in June 1912 and laid down on 21st October that year.
The ship was launched on 16th October 1913 as the first RN warship to carry this name. Her Badge reflects the particular association with the Royal Family.
Build was completed on 22 December 1914 and she was deployed in the Mediterranean. Her distinctive service during WW1 included participation in the Dardanelles campaign
and the surrender of the German High Seas Fleet in 1918 when the terms of surrender were given to Admiral Von Reuter on board. In 1937 she was selected for an extended modernization
which began in August that year and was not completed until 1939. Her WW2 service was particularly well known as she was seriously damaged
at Alexandria after explosive charges had been placed on her hull in an attack by two man human torpedoes in December 1941.
She then had an extensive period under repair and refit in a US Navy Dockyard Norfolk, VA before resuming Fleet service in the East Indies Fleet.
She took part in many offensive operations against the Japanese bases in the Indian Ocean and in support of landing operations in Burma before return to UK before VJ Day.