Toll free 800 - 845-1140
Shipping will be added to all orders, we always endeavour to give you the best rate >>> Click for Rates.
If you have any questions or need help email us, call us or click here for HELP

PT-596 - 80' Elco Boat in Spectacular Detail 1/35th scale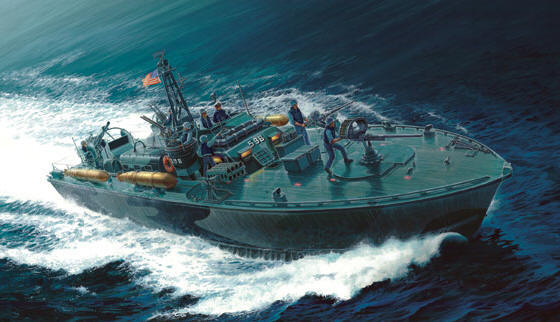 Kit # PT121 $GONE
Italeri's PT-596 Torpedo Boat is a huge model.
At 1/35 scale, the hull length is 27.55".
The tooling to create the hull is the largest single
part ever made by Italeri, weighing a massive 748 lbs. Italeri's skilled designers, historians
and craftsmen pulled out all the stops. This gorgeous, first ever kit of
this type from Italeri contains 322 parts molded in olive green plastic, plus
one clear acetate sheet for the windows, one photoetched fret containing 86
parts for torpedo fins, rocket launchers sides, 37 MM. gun ammo conveyor,
gunsights, main mast aerials, instruments panel, deck lights, and seven screws.
The one piece hull and single piece deck are wonderfully detailed, as are
the on-board twin 0.50 Cal. machine guns positions. Finely engraved
Mk.13 torpedoes with side impulse launchers, containing 17 parts for each
unit add to the spectacular realism, along with the detailed exhaust with
silencers and rear smoke generator.

There's more. Highly detailed 20 MM. Oerlikon and 37MM. M4 guns
(the M-4's adapted from the P-39 aircraft) add to the armaments,
with two fearsome, front multiple rocket launchers and reserve
weapons boxes on the deck.
The propellers are accurately shaped, as expected in a model of this quality
and precision. The meticulous in-depth exactness doesn't stop here;
A 40 MM. dual role Bofors gun, (a kit within a kit, containing more than 50
parts is included too). Italeri has given the model builder a choice of open or
closed positions for the various escape and entrance doors on the deck.
The decal set is for the PT-596 that was in service in the very last days of WWII.

There's even a reference manual included with the history and actual photos of the
full size boat. This magnificent model exemplifies Italeri's "Culture of Modeling".

Now Skipper you have your boat were is your crew?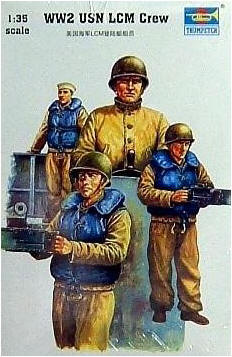 This kit will crew out 6 for your PT-Boat.
Kit 0408 - 9.95