Toll free 800 - 845-1140
Shipping will be added to all orders, we always endeavour to give you the best rate >>> Click for Rates.
If you have any questions or need help email us, call us or click here for HELP

1/35 Vosper 72"6 Motor Torpedo Boat 77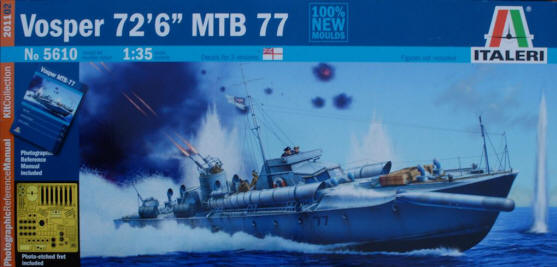 KIT #PT108 1/35 Scale 24"8 Long
List Price $199.00 Our Great Price $150.00

British Royal Navy motor torpedo boat, 1940 design armed with two torpedo tubes, two machine guns and depth charges. Kit features full hull (single piece with separate transom), deck with fine engraved plank texture and non-skid sections, well detailed wheelhouse and flying bridge helm stations, separately molded chine strakes, twin rudders, triple screws, individual deck fittings and equipment, optional position deck hatches, well rendered torpedo tubes, 21" torpedoes (x2 - may be displayed loaded in tubes or unloaded on racks), machine gun pulpit with dual-mount Vickers .50s, depth charges and racks (x4), mast with aerials, life raft and display cradle. Also includes photographic reference manual, precut acetate window and porthole glazings, photo-etch parts, rigging cord, antenna wire and deck securing screws. Decals and painting guide for 3 vessels: MTB-73; MTB-77 and MTB-97 - includes gauges faces, hull markings, nameplates and ensign. Completed model is approximately 24.8" long and may be adapted for R/C utilization (R/C parts and instructions not included).