Toll free 800 - 845-1140
Shipping will be added to all orders, we always endeavour to give you the best rate >>> Click for Rates.
If you have any questions or need help email us, call us or click here for HELP

KM Tirpitz 1/350 scale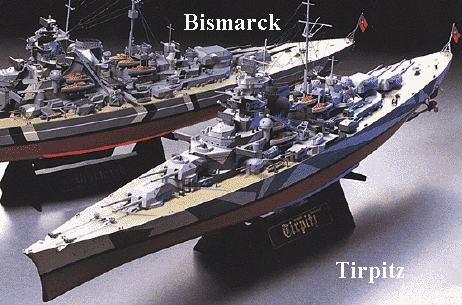 Built right out of the box these are recreations of two of the
most talked about Battleships of World War II.
Kit# GB512 - $105.95
About the Tirpitz:

The Tirpitz was the sister ship to the Bismarck and was named after German Admiral Alfred von Tirpitz. It was commissioned into the German navy in February 1941. It played a major role in the Norwegian fjords. It was a serious threat to Allied convoys to Russia until it was crippled by mines laid by British midget submarines. She finally sunk on November 11, 1944 after being hit by tallboy bombs.