Toll free 800 - 845-1140
Shipping will be added to all orders, we always endeavour to give you the best rate >>> Click for Rates.
If you have any questions or need help email us, call us or click here for HELP

USS Seawolf Class Submarine Ship Models
USS Seawolf SSN-21 - 12" long
Americas newest attack Submarines.
Gone Kit# S122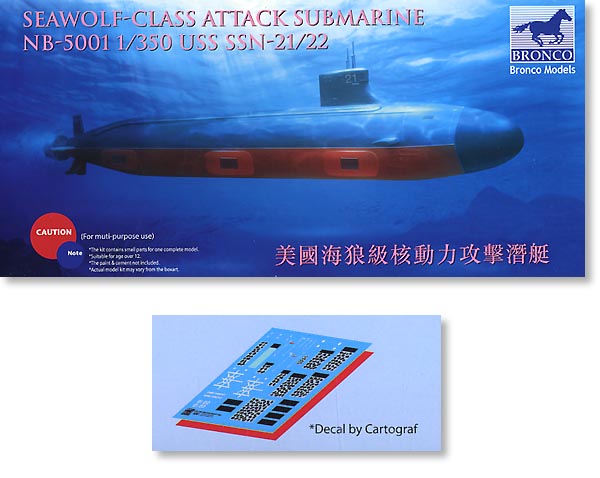 Decals for the two submarines!
General Characteristics, Seawolf class
Builders: General Dynamics Electric Boat Division.
Power Plant: One nuclear reactor, one shaft
Length: 353 feet (107.6 meters)
Draft: 35 feet (10.67 meters)
Beam: 40 feet (12.2 meters)
Displacement: 8,060 tons (8,189.35 metric tons) surfaced; 9,150 tons (9,296.84 metric tons) submerged
Speed: 25+ knots (28+ miles per hour, 46.3+ kph)
Cost: about $2.1 billion each
Ships:
USS Seawolf (SSN 21), Groton, CT
USS Connecticut (SSN 22), Groton, CT
USS Jimmy Carter (SSN 23), Bangor, WA
Crew: 13 Officers; 121 Enlisted
Armament: Tomahawk missiles, MK-48 torpedoes, eight torpedo tubes.