Toll free 800 - 845-1140
Shipping will be added to all orders, we always endeavour to give you the best rate >>> Click for Rates.
If you have any questions or need help email us, call us or click here for HELP

USS Florida SSGN-728 1/350
Ohio Class Nuclear Ballistic Missile Submarines Models

List Price $52.95 Kit#S121 - Our Great Price $45.95
This overall quality of this kit remains remarkable even after the passage of so many years.
The shape of the submarine is beautifully captured and details are sharply rendered.
It has also been updated compared to the original release, with USS Florida including Dry Deck Shelter (DDS) mounted on the deck.
This system enables teams of SEALs to be infiltrated and exfiltrated in littoral areas, with the DDS housing swimmer delivery vehicles (SDV).
The original submarine was given a new purpose, and so Dragon has given its very first kit a rebirth that adds enormously to its appeal!
Essential Skills Scale Modeling


Were you a teenager the last time
you built a model?


A step-by-step introduction to scale modeling basics.
Beginning scale modelers are full of questions:
What kinds of models are there? What kinds of tools
do I need? What glue works best?
How do I put a model together?
How are the decals applied?
Finally, Kalmbach offers answers to
all these beginner questions and more.

This new book is filled with more pictures
and how to articles than their other book.


List $21.95 Our Price BK01 19.95
Fleet Ballistic Missile Submarines - SSBN
last updated: September 21, 1999

Description: Nuclear-powered submarines armed with long-range strategic missiles.

Background: Strategic deterrence has been the sole mission of the fleet ballistic missile submarine (SSBN) since its inception in 1960. The SSBN provides the nation's most survivable and enduring nuclear strike capability. The Ohio class submarine replaced aging fleet ballistic missile submarines built in the 1960s and is far more capable.

Ohio-class/Trident ballistic missile submarines provide the sea-based "leg" of the triad of U.S. strategic deterrent forces. The 18 Trident SSBNs (each carrying 24 missiles), carry 50 percent of the total U.S. strategic warheads. Although the missiles have no pre-set targets when the submarine goes on patrol, the SSBNs are capable of rapidly targeting their missiles should the need arise, using secure and constant at-sea communications links.
Features: The first eight Ohio class submarines (Tridents) were originally equipped with 24 Trident I C-4 ballistic missiles. Beginning with the ninth Trident submarine, USS Tennessee (SSBN 734), all new ships are equipped with the Trident II D-5 missile system as they are built, and the earlier ships are being retrofitted to Trident II. Trident II can deliver significantly more payload than Trident I C-4 and more accurately.

The Ohio-class submarines are specifically designed for extended deterrent patrols. To decrease the time in port for crew turnover and replenishment, three large logistics hatches are fitted to provide large diameter resupply and repair openings. These hatches allow sailors to rapidly transfer supply pallets, equipment replacement modules and machinery components, significantly reducing the time required for replenishment and maintenance. The class design and modern main concepts allow the submarines to operate for 15+ years between overhauls.

Point of Contact:
Public Affairs Office
Naval Sea Systems Command
Washington, DC 20362

General Characteristics, Ohio Class
Builders: General Dynamics Electric Boat Division.
Power Plant: One nuclear reactor, one shaft
Length: 560 feet (170.69 meters)
Beam: 42 feet (10.06 meters)
Displacement: 16,764 tons (17,033.03 metric tons) surfaced; 18,750 tons (19,000.1 metric tons) submerged
Speed: 20+ knots (23+ miles per hour, 36.8 +kph)
Ships:
Homeported at the Naval Submarine Base, Bangor, Washington:
USS Ohio (SSBN 726)
USS Michigan (SSBN 727)
USS Florida (SSBN 728)
USS Georgia (SSBN 729)
USS Henry M. Jackson (SSBN 730)
USS Alabama (SSBN 731)
USS Alaska (SSBN 732)
USS Nevada (SSBN 733)
Homeported at the Naval Submarine Base, Kings Bay, Georgia:
USS Tennessee (SSBN 734)
USS Pennsylvania (SSBN 735)
USS West Virginia (SSBN 736)
USS Kentucky (SSBN 737)
USS Maryland (SSBN 738)
USS Nebraska (SSBN 739)
USS Rhode Island (SSBN 740)
USS Maine (SSBN 741)
USS Wyoming (SSBN 742)
USS Louisiana (SSBN 743)
Crew: 15 Officers, 140 Enlisted
Armament: 24 tubes for Trident I and II, MK-48 torpedoes, four torpedo tubes.
Date Deployed: November 11, 1981 (USS Ohio)
Naval Art prints are a great gift for any Veteran!
Click the pic for more details. This is a Comm. Print.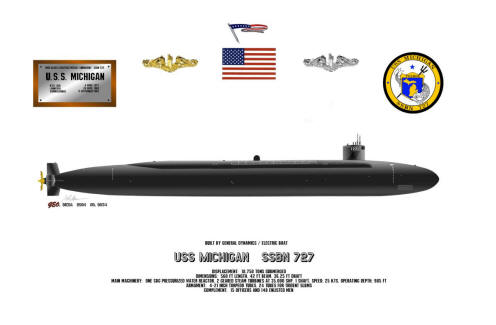 ---