Toll free 800 - 845-1140
Shipping will be added to all orders, we always endeavour to give you the best rate >>> Click for Rates.
If you have any questions or need help email us, call us or click here for HELP

LCI (L) Landing Craft Infantry - Large
LCI(L) -- Landing Craft, Infantry -- Round Bridge
Yes I know the box shows a Square Bridge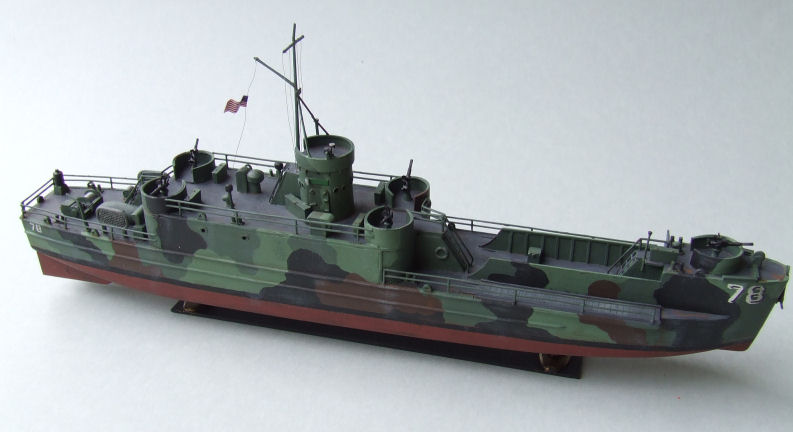 Railing was added for this kit you can make this ship!
The Landing Craft Infantry (Large) was a small amphibious landing ship designed to land troops directly on the beach.
It was more or less the infantry equivalent of the LST. Over 1000 were built - the first 350 had two landing ramps either side
of the bow, whilst later craft had a single centre ramp. There were numerous other design variations including the shape of the bridge/wheelhouse structure. With an overall length of 160"/49m,
the LCI(L) could carry up to 200 troops at a maximum speed of 12 knots.
As standard, these craft had a light defensive armament of four or five 20mm Oerlikon guns, but several hundred LCI(L)s
were built as or converted into gunboats or fire support vessels with additional armament including mortars and rockets.
The most heavily armed of these variants was the LCS (Landing Craft, Support), designed as a patrol vessel to
intercept Japanese supply barges as well as for fire support in amphibious operations; this carried rocket launchers,
a single 3"/50 gun, two twin 40mm mounts and numerous single 20mm guns.

Lindberg's LCI (representing (LCI(L)-78), an early side-ramp type) is one of their earliest ship kits
and this is very evident in the kit parts. The hull, deck and superstructure are chunky and simplified mouldings
with very little detail other than the usual Lindberg panel lines. Gun tubs are similarly thick and overscale
and the wheelhouse is devoid of both portholes and the open bridge platform on top (The box art, incidentally,
depicts a LCI with the square wheelhouse type, whilst the kit has the round wheelhouse).
The side landing ramps are completely missing, not even being represented as raised lines on the deck!
Smaller parts and fittings are similarly basic, but some - such as the 20mm guns, boat and Carley floats,
vents and winch - are salvageable with some work; inclined ladders
are the usual "steps" and best replaced with etched brass parts.

MSRP $17.95 This model is 12" long, very detailed. our price $14.40 AX116
We can make a personalized art print of your LCI for more info click the picture.
Clic the pic for info!
D-Day scene both are Commander kits. Picture from www.navismagazine.com