Toll free 800 - 845-1140
Shipping will be added to all orders, we always endeavour to give you the best rate >>> Click for Rates.
If you have any questions or need help email us, call us or click here for HELP

WWI German Battleships
SMS Konig, Grosser Kurfurst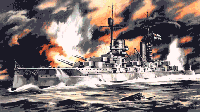 AS18, AS19, 1/700 OR 1/350 SCALE
1/700 - 42.95 or 1/350 69.95
Battleship "Konig" belonged to the number of the most illustrious ships of Kaiser German Navy of WWI period.
The four sisterships of this type - "Konig", "Gro▀er Kurfurst", "Markgraf" and "Kronprinz" were built as the further development of "Kaiser" dreadnoughts. These ships represented the last class of 305 mm armed German battleships. Their main recognition feature was that all 5 turrets of main guns were installed in centerline of the ships, identically to British battleships of "Orion" and "King George V" type. The new vessels were named in honor of members of German governing dynasties. The first of her type, "Konig" (the King), was laid down at Imperial Shipyard in Wilhelmshaven 3.10.1911, launched 1.03.1913 and commissioned 9.08.1914.
Battleships of "Konig" type were mighty vessels, excellently geared for North Sea conditions. These ships possessed very good seaworthiness, but relatively small sea endurance. The hull, comparatively short and breadth enough, allowed to install the thick armor and developed torpedo protection. Until the "Bayern" and "Baden" battleships were commissioned in 1916-1917, the "Konig" type vessels were the most powerful ones in German Navy.
The four sisterships formed the 3rd Squadron of Open Sea Navy (Hochseeflotte). "K÷nig" became the flagship of Rear Admiral Benke.
The 3rd Squadron of Battleships took part in all battle operations of Open Sea Navy after the WWI started. One of the sorties caused the Battle of Jutland May 31 June 1, 1916, - the greatest and fierce sea battle of WWI. "K÷nig" was the leading vessel of the battle line of German Navy. The battleships of the 3rd Squadron opened gunfire for demolition at 16:57. British battleships "Warspite", "Valiant" and "Malaya" were severely damaged. Also two destroyers were annihilated.
About 18:00 the British squadron of armored cruisers get out from pea-soup fog and suddenly engaged the German battlecruisers and Benke's battleships. The German gunfire caused soon the bursting of armored cruiser "Defence" with Admiral Arbetnot and all 900 men of crew. Armored cruisers "Warrior" and "Black Prince" were damaged seriously.
The battle of the main forces of German and British Navy started at 18:17. During the battle all the ships of 3rd Squadron had a number of faults. "Konig" suffered from British gunfire particularly. She received 10 main caliber and 5-6 smaller direct hits. The crew losses 45 killed and 27 wounded. The battleship took about 1 600 tons of water. The upkeep of "Konig" lasted until 21.07.1916.
In 1917 "Konig" was updated. The 88-mm guns were stripped away from forecastle casemates. The new big- diameter foremast with central fire-control station on it was installed.
"Konig" took part in Moonsund operation at Baltic Sea against Russian Navy, September-October, 1917. During gunfire fight October, 17, at Riga Bay "K÷nig" and her sistership "Kronprinz" caused serious damages of Russian battleships "Slava" (7 direct hits) and "Grazhdanin" (2 hits). After this battle "Slava" was burst and scuttled by her crew in Moonsund channel.
The last sortie of Open Sea Navy during WWI was held April, 22, 1918. But Germans had no fleet engagement with Britains.
After the armistice was signed the German Navy was interned by alliances at Scapa-Flow, where almost all vessels, including all 4 "Konig" sisterships, were scuttled by their crews June, 21, 1919. The remains of the "K÷nig" hull are resting now with peace on the sea bed of the Scapa-Flow Harbour.
Specifications of "Konig" Battleship:
Standard displacement, tons - 22.796
Total displacement, tons - 28.600
Length: on waterline/overall, m - 174,7 / 175,7
Maximal beam,m - 29,5
Draught: normal/maximal, m - 8,33 / 9,19
Machinery: 15 water-tube boilers, 3 steam turbines
Trial power, h.p. - 43.300
Cruising range, n.m. (at 12 kn.) - 8.000
Maximum speed, kn. - 21
Crew: 41 officers, 1095 enlisted men.
Armor, (mm):
Main belt - 350
Upper belt - 180
Casemates - 170
Aft. and Fwd. end belts - 120 - 180
Traverses - 170
Main armored deck - 30
Tapers of main armored deck - 30
Torpedo bulkhead - 40
Turrets - 150 - 300
Barbettes - 300
Conning towers - 200 - 300
Armament:
10x305 mm main guns SKL/50 C/08 in five turrets (range of fire 20.400 m; ammunition 900 shots)
14x150 mm guns SKL/45 C/09 in casemates (range of fire 16.800 m; ammunition 2.240 shots)
6x88 mm guns SKL/35 C/06 in forecastle casemates (stripped away in 1917)
2 (later 4)x88 mm high-angle guns SKL/45 C/13 on poop deck ( ammunition 2.500 shots)
5x500 mm submerged torpedo tubes (ammunition 16 torpedoes)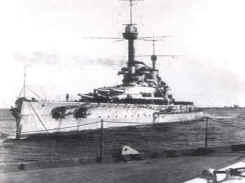 Essential Skills Scale Modeling


Were you a teenager the last time
you built a model?


A step-by-step introduction to scale modeling basics.
Beginning scale modelers are full of questions:
What kinds of models are there? What kinds of tools
do I need? What glue works best?
How do I put a model together?
How are the decals applied?
Finally, Kalmbach offers answers to
all these beginner questions and more.

This new book is filled with more pictures
and how to articles than their other book.


List $21.95 Our Price BK01 19.95