Toll free 800 - 845-1140
Shipping will be added to all orders, we always endeavour to give you the best rate >>> Click for Rates.
If you have any questions or need help email us, call us or click here for HELP

Los Angeles Class Submarines Models
Flight I or Flight II or Flight III
With these kits and new decals you can build any one of the class.

MSRP 24.95 All Kits 12" long #S118 - $22.00 our Price
Each kit Features:
Kit has detailed 2-piece underwater hull, 1 piece deck with hull non-skid, conning tower with periscopes and antennae, secondary propulsion motor, propeller, separate bow planes and display stand.
Kit consists of over 64 parts on 4 sprues, plus photo etched name plate. Completed model is approximately 12.35" long. Color painting guide has 3-view art; decals for hull - including draft marks.
11 - "Los-Angeles Flight-I", without VLS (among the SSN 688-718, are still in service: Philadelphia, Memphis, Bremerton, Jacksonville, Dallas, La-Jolla, City-of-Corpus Christi , Albuquerque, San-Francisco, Houston, Norfolk, Buffalo, Olympia).
In service since 1976/1985, all will be retired by 2017, (Philadelphia first in June 2010) and +/- partially replaced by the last 4 "Virginia Block-II".

8 - "Los-Angeles Flight-II" (SSN 719-725, 750: Providence, Pittsburgh, Chicago, Key-West, Oklahoma-City, Louisville, Helena, Newport-News), with VLS and upgraded reactor core which does not require refueling,
+/- 30/33 years service life expected. Commissioned from 1985-1989, to be retired around 2018-2021 and +/- replaced by 7 Virginia Block-III.

23 - "Los-Angeles Flight-III", (SSN 751-773: San-Juan, Pasadena, Albany, Topeka, Miami, Scranton, Alexandria, Asheville, Jefferson-City, Annapolis, Springfield, Columbus, Santa-Fe, Boise, Montpelier, Charlotte, Hampton, Hartford, Toledo,
Tucson, Columbia, Greeneville, Cheyenne). Much quieter, VLS, with more advanced sonar, forward diving planes moved into the sail structure, and sail strengthened for Ice operation. With a lightly more longer expected service life,
33 full years. Commissioned 1988-1996, to be retired 2021-2029, and partially replaced by +/- 15 Virginia Block-IV/V.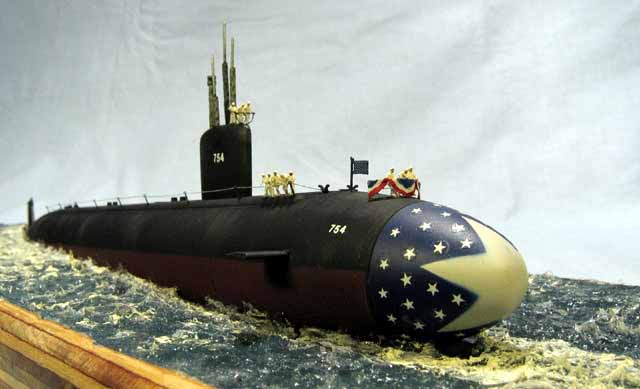 Fantastic diorama built by Dirk Mennigke from modelwarships.com
---
Builders: Newport News Shipbuilding Co.; General Dynamics Electric Boat Division.
Power Plant: One nuclear reactor, one shaft
Length: 360 feet (109.73 meters)
Beam: 33 feet (10.06 meters)
Displacement: Approx. 6,900 tons (7010 metric tons) submerged
Speed: 20+ knots (23+ miles per hour, 36.8 +kph)

Ships:
USS Los Angeles (SSN 688), Pearl Harbor, HI
USS Philadelphia (SSN 690), Groton, CT
USS Memphis (SSN 691), Groton, CT
USS Cicinnati (SSN-693) Decommissioned
USS Bremerton (SSN 698), Pearl Harbor, HI
USS Jacksonville (SSN 699), Norfolk, VA
USS Dallas (SSN 700), Groton, CT
USS La Jolla (SSN 701), Pearl Harbor, HI
USS Boston (SSN 703),
USS City of Corpus Christi (SSN 705), Guam
USS Albuquerque (SSN 706), Portsmouth, NH
USS Minneapolis-St. Paul (SSN 708), Norfolk, VA
USS Hyman G. Rickover (SSN 709), Norfolk, VA
USS Augusta (SSN 710), Groton, CT
USS San Francisco (SSN 711), Guam
USS Houston (SSN 713), Bremerton, WA
USS Norfolk (SSN 714), Norfolk, VA
USS Buffalo (SSN 715), Pearl Harbor, HI
USS Salt Lake City (SSN 716), San Diego, CA
USS Olympia (SSN 717), Pearl Harbor, HI
USS Honolulu (SSN 718), Pearl Harbor, HI
USS Providence (SSN 719), Groton, CT
USS Pittsburgh (SSN 720), Groton, CT
USS Chicago (SSN 721), Pearl Harbor, HI
USS Key West (SSN 722), Pearl Harbor, HI
USS Oklahoma City (SSN 723), Norfolk, VA
USS Louisville (SSN 724), Pearl Harbor, HI
USS Helena (SSN 725), San Diego, CA
USS Newport News (SSN 750), Norfolk, VA
USS San Juan (SSN 751), Groton, CT
USS Pasadena (SSN 752), Pearl Harbor, HI
USS Albany (SSN 753), Norfolk, VA
USS Topeka (SSN 754), San Diego, CA
USS Miami (SSN 755), Groton, CT
USS Scranton (SSN 756), Norfolk, VA
USS Alexandria (SSN 757), Groton, CT
USS Asheville (SSN 758), San Diego, CA
USS Jefferson City (SSN 759), San Diego, CA
USS Annapolis (SSN 760), Groton, CT
USS Springfield (SSN 761), Groton, CT
USS Columbus (SSN 762), Pearl Harbor, HI
USS Santa Fe (SSN 763), Pearl Harbor, HI
USS Boise (SSN 764), Norfolk, VA
USS Montpelier (SSN 765), Norfolk, VA
USS Charlotte (SSN 766), Pearl Harbor, HI
USS Hampton (SSN 767), Norfolk, Va.
USS Hartford (SSN 768), Groton, Conn.
USS Toledo (SSN 769), Groton, Conn.
USS Tucson (SSN 770), Pearl Harbor, Hawaii
USS Columbia (SSN 771), Pearl Harbor, Hawaii
USS Greeneville (SSN 772), Pearl Harbor, Hawaii
USS Cheyenne (SSN 773), Pearl Harbor, Hawaii
Crew: 13 Officers, 121 Enlisted
Armament: Tomahawk missiles, VLS tubes (SSN 719 and later), MK-48 torpedoes, four torpedo tubes (Seawolf has 8).
Date deployed: November 13, 1976 (USS Los Angeles)