Toll free 800 - 845-1140
Shipping will be added to all orders, we always endeavour to give you the best rate >>> Click for Rates.
If you have any questions or need help email us, call us or click here for HELP

USS Coronado LCS-4
1/350 Scale Ship Models

Kit# DC055 $64.95 model is now $42.95 - 15" long
This ship is in stock now!


Specifications - LCS Littoral Combat Ship (Flight 0, first generation):
Hull Type: Stabilized Trimaran Monohull
Displacement: 2176 tons (light), 2784 tons (full)
Dead Weight: 608 tons
Length: 418' (oa)
Beam: 93.2' (extreme)
Draft: 13' (Maximum Navigational Draft)
Propulsion: Two gas turbine engines, two propulsion diesels, two water jets
Speed: 47 kts (sprint), 50+ kts (top speed)
Armament: Bofors 57mm naval gun; Rolling Airframe Missile (RAM) launcher; 4 - .50 caliber machine gun mounts
Combat Management System: Northrup Grumman ICMS
Electronics: Ericsson Sea Giraffe (air / surface surveillance, weapon assignment);
Decoy System: 3 - Super RBOC; 2 - Nulka Decoy launchers
Complement: 26
---
USS Coronado (LCS 4) Building and Operational Data:
14 October 2005: Contract Awarded to General Dynamics Corp.
19 January 2006: Laid down at Austal USA, Mobile, Ala.
29 April 2008: Launched
4 October 2008: Christened, sponsored by Mrs. Doreen Scott, wife of Terry D. Scott, 10th Master Chief Petty Officer of the Navy
18 October 2009: Completed builder's trials in the Gulf of Mexico
18 December 2009: Delivered to, and accepted by, the U.S. Navy
16 January 2010: Commissioned at Mobile, Ala., Cdr Kurt A. Renshaw (CO Blue) and Cdr Michael B. Riley (CO Gold) in command

What's in the kit look below.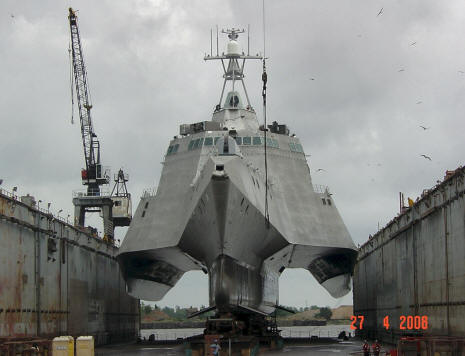 BRAND NEW TOOLING!!!
- Newly tooled MH-53E
- Newly produced MK-105
- Detailed integrated ISR suite delicately represented
- Hull-side door can be assembled open/closed
- Hangar is hollow to allow accommodation of helicopter
- Dimensionally accurate flight deck represented in detail
- Photo-etched safety netting surrounds the flight deck
- Detailed flight deck includes signal lights
- Optional MK 41 launcher authentically produced
- True-to-scale SeaRAM including 11-cell launcher and Phalanx CIWS delicately represented
- Bow anchor correctly depicted
- Hangar door can be assembled open/closed
- Stern doors can be assembled open/closed
- Realistic life raft containers and brackets provided
- Waterline or full-hull version can be assembled
- Display stand included for display of full-hull version
- Delicate MQ-8 included
- Intricate Trimaran hull consists of main hull and two outrigger hulls
- One-piece slide-molded superstructure accurately represented
- One-piece slide-molded lower hull w/both waterline & full-hull versions available

Bronco has already released a 1/350 scale kit of USS Independence (LCS-2), the prototypical Independence-class Littoral Combat Ship (LCS). Now, Bronco is following up with an identically scaled plastic kit of USS Coronado (LCS-4). What is most remarkable about this kit is that LCS-4 is still under construction, with it not expected to enter service until May 2012. This means model-makers will get their hands on this ship long before the US Navy does! Its primary missions will include mine, anti-submarine and surface warfare depending on what mission package modules are installed on the ship.

Based on the very popular LCS-2 kit, Item No. 7108 shares many of its extremely accurate components. However, it has been modified where appropriate to reflect any changes introduced in LCS-4. To make it even more distinctive, the ship comes with some newly tooled items such as an MH-53E Sea Dragon helicopter equipped with an MK-105 Mod 4 Magnetic Minesweeping System, more commonly known as the "sled". This hydrofoil-type device is towed along the ocean's surface by a Sea Dragon during minesweeping operations. As well as this, the kit also boasts an MQ-8 Fire Scout rotary-winged unmanned aerial vehicle (UAV). With all these accessories, this new kit of the future USS Coronado couldn't be any more advanced!