Toll free 800 - 845-1140
Shipping will be added to all orders, we always endeavour to give you the best rate >>> Click for Rates.
If you have any questions or need help email us, call us or click here for HELP

USS Tennessee & USS California Ship Models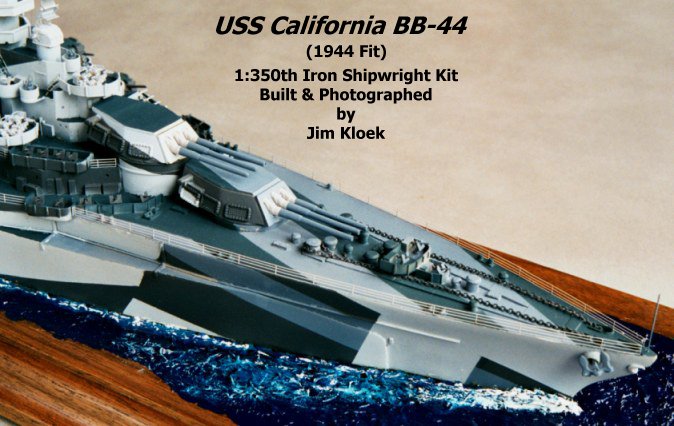 Jim Kloek's USS California, 1944, nicely complements his 1941
version built earlier and Jim built the model straight from
the box using the Iron Shipwright 1:350th USS Tennessee/California kit. The most
time consuming aspect of the buildup was the painting of the dazzle scheme. He used
the pattern from Floating Drydock, laboriously masking and spraying the whole thing.
The two models look great next to each other, and Jim says they are a real
conversation piece.
You can build either the USS Tennessee or the USS California.
Kit#BB137-$325.00 Resin Model
Tennessee Class:
Displacement: 32,300 tons (normal) / 40,354 tons (full load)
Length: 624'-624'6"
Beam: 114'
Draft: 34'
Speed: 20 knots
Armament: 4x3 14"/50, 14x1 5"/51, 4x1 5"/25, 2 21" tt; 3 planes
Complement: 2243-2375
Propulsion: Turbo-electric engines, 8 boilers, 4 shafts, 26,800 hp
| | | | |
| --- | --- | --- | --- |
| No. | Name | Comm. | Notes (: Lost) |
| BB-44 | California <Website | 10 Aug 1921 | |
| BB-43 | Tennessee <Website | 3 Jun 1920 | |
[_private/ashey2.htm]