Toll free 800 - 845-1140
Shipping will be added to all orders, we always endeavour to give you the best rate >>> Click for Rates.
If you have any questions or need help email us, call us or click here for HELP

USS Gato Class Submarine Models
1/200 scale you can build all boats of this class.
All you need is new decals. Model over 19" long.
All these subs can be built from this Kit# S105A - 47.00 kit.
1942 - Early War

This will be a brand new kit super detailed. In stock now!
Kit consists over 120 parts on 7 sprues with markings for year 1942.
Completed kit measures nearly 19" long. Skill level 2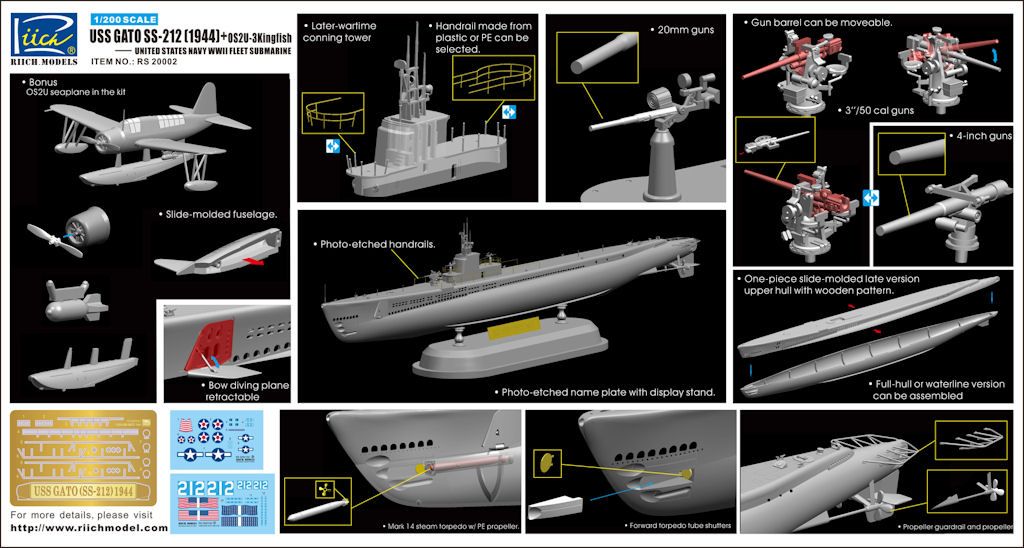 Features of the kit include:
One-piece slide-molded upper hull with wooden pattern
Full-hull or waterline version can be assembled
Photo-etched handrails
Photo-etched name plate with display stand
Forward torpedo tube shutters
Mark 14 steam torpedo
Bow diving plane retractable
3"/50 cal guns
Early-wartime conning tower
Sail interior
Propeller and guardrail
Stern plane and rudder


Essential Skills Scale Modeling


Were you a teenager the last time
you built a model?


A step-by-step introduction to scale modeling basics.
Beginning scale modelers are full of questions:
What kinds of models are there? What kinds of tools
do I need? What glue works best?
How do I put a model together?
How are the decals applied?
Finally, Kalmbach offers answers to
all these beginner questions and more.

This new book is filled with more pictures
and how to articles than their other book.


List $21.95 Our Price BK01 19.95
Gato Class Submarines
Displacement: 1526 tons surfaced, 2424 tons submerged
Length: 311'
Beam: 27'3"
Draft: 16'10"
Speed: 20 knots surfaced, 9 knots submerged
Armament: 1 3"/50 or 1 4"/50 or 1 5"/50, 6 bow and 4 stern torpedo tubes, 24 21" torpedoes (loaded tubes plus reloads: 10 forward, 4 aft)
Complement: 80
Diesel engines, surfaced/electric motors, submerged
Hull No. &
Pictures
Name
Comm.
Notes (: Lost)
SS-218
Albacore
1942
: 7 Nov 44?; mine, off Hokkaido?
SS-219
Amberjack
1942
: 16 Feb 43; IJN depth charges near Rabaul
SS-240
Angler
1943
?
SS-220
Barb
1942
SS-241
Bashaw
1943
SS-221
Blackfish
1942
SS-222
Bluefish
1943
SS-242
Bluegill
1943
SS-223
Bonefish
1943
: 19 Jun 45; Toyama Wan, Honshu
SS-243
Bream
1944
SS-244
Cavalla
1944
SS-225
Cero
1943
SS-245
Cobia
1944
SS-224
Cod
1943
SS-226
Corvina
1943
: 16 Nov 43; torpedoed by I-176 SW of Truk
SS-246
Croaker
1944
SS-247
Dace
1943
SS-227
Darter
1943
: 24 Oct 44; grounded in Palawan Passage then bombed
SS-248
Dorado
1943
: 12 Oct 43; bombed by U.S. Mariner in Caribbean
SS-228
Drum
1941
SS-230
Finback
1942
SS-249
Flasher
1943
SS-250
Flier
1943
: 19 Sep 44; unknown causes
SS-251
Flounder
1943
SS-229
Flying Fish
1941
SS-252
Gabilan
1943
SS-212
Gato
1941
SS-213
Greenling
1942
SS-214
Grouper
1942
SS-215
Growler
1942
: 8 Nov 44; reported missing after attacking convoy SW of Luzon (depth charges)?
SS-216
Grunion
1942
: < 5 Oct 42; unknown causes
SS-217
Guardfish
1942
SS-253
Gunnel
1942
SS-254
Gurnard
1942
SS-255
Haddo
1942
SS-231
Haddock
1942
SS-256
Hake
1942
SS-232
Halibut
1942
SS-257
Harder
1942
: 24 Aug 44; depth charges, SW Pacific
SS-233
Herring
1942
: 1 Jun 44; shore battery in the Kuriles
SS-258
Hoe
1942
SS-259
Jack
1943
SS-234
Kingfish
1942
SS-260
Lapon
1943
SS-261
Mingo
1943
SS-262
Muskallunge
1943
SS-263
Paddle
1943
SS-264
Pargo
1943
SS-265
Peto
1942
SS-266
Pogy
1943
SS-267
Pompon
1943
SS-268
Puffer
1943
SS-269
Rasher
1943
SS-270
Raton
1943
SS-271
Ray
1943
SS-272
Redfin
1943
SS-273
Robalo
1943
: 26 Jul 44; battery explosion? off Palawan
SS-274
Rock
1943
SS-275
Runner
1942
: < 27 Oct 43; unknown causes
SS-276
Sawfish
1942
SS-277
Scamp
1942
: 11 Nov 44?; depth charge, S. of Tokyo Bay?
SS-278
Scorpion
1942
: < 22 Mar 44; unknown causes
SS-235
Shad
1942
SS-236
Silversides
1941
SS-279
Snook
1942
: <: 4 Aug 45; unknown causes
SS-280
Steelhead
1942
SS-281
Sunfish
1942
SS-283
Tinosa
1943
SS-237
Trigger
1942
: 28 Mar 45; depth charge, off Okinawa
SS-284
Tullibee
1943
: 26 Mar 44; circular return of own torpedo
SS-282
Tunny
1942
SS-238
Wahoo
1942
: < 2 Dec 43; unknown causes
SS-239
Whale
1942
---