Toll free 800 - 845-1140
Shipping will be added to all orders, we always endeavour to give you the best rate >>> Click for Rates.
If you have any questions or need help email us, call us or click here for HELP

USS Andrew Jackson
Lafayette Class Nuclear Submarines
This is the Classic Revell kit of the 60's & 70's. Build the inside of a Nuclear Submarine.
This is a limited run so it won't be here forever. This kit contains over 200 parts plus
the hull has hinges so that you build it as a open or closed hull model.
Kit# S124 $Gone - 19" long.
The Lafayette-class of boats is very similiar to the later Benjamin Franklin-class of submarines, the main difference being that the Franklin-class has quieter machinery. All of these ships have diesel-electric standby machinery, snorts, and "out-board" auxiliary propellers for emergency use. These ships have been fazed out with the expanding fleet of Ohio-class.
Length- 425 ft. Beam- 33 ft. Draft- 31 ft 6 in
Displacement- 6,650 tons light surfaced, 7,250 tons standard surfaced, 8,250 tons dived
SLBMs- 16 tubes for Poseidon C-3 missiles
Torpedoes- 4 21-inch Mk 65 torpedo tubes for Mk 48 torpedoes
Reactors- 1 pressurized-water cooled S5W Westinghouse reactor
Machinery- 2 geared turbines, 1 shaft, 15,000 shp
Speed- 20 kts surfaced, 30 kts dived
Complement- 14 officers, 126 enlisted men
---
These are the other ships of the Class.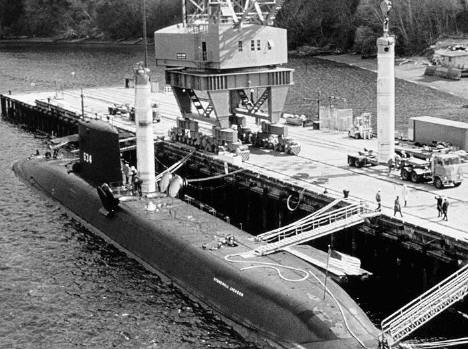 [_private/ashey2.htm]