Toll free 800 - 845-1140
Shipping will be added to all orders, we always endeavour to give you the best rate >>> Click for Rates.
If you have any questions or need help email us, call us or click here for HELP

USS Panay from the Asiatic Fleet
Same ship as in the movie "Sand Pebbles"
(look below for a detailed message from Art)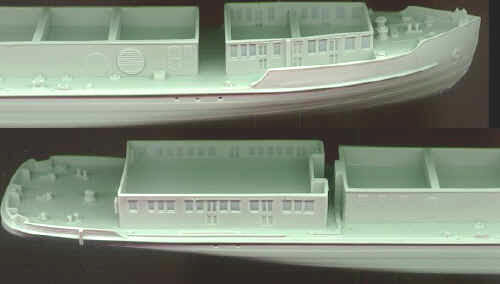 USS Panay in 1/192 scale this is the American Gunboat
attacked by the Japanese in their war on China 1938.
Resin kit #AS17 $175.00 in stock
Diorama built by master builders Bob Santos & Art Herrick.
[_private/ashey2.htm]
PR -- River Gunboats
Displacement: 370-560 tons

Length: 159'5"-210'9"

Beam: 27'1"-31'1"

Draft: 5'1"-5'7"

Speed: 14.5-16 knots

Armament: 2 3"/23 or 2 3"/50

Complement: 60-80

Reciprocating engines, twin screws
No.
Name
Comm.
Notes (: Lost)
PR-7
Luzon
1928
5 May 42; at Corregidor
PR-8
Mindanao
1928
2 May 42; bombed off Corregidor
PR-6
Oaho
1928
4 May 42; artillery fire at Corregidor
PR-5
Panay
1928
12 Dec 37; air attack on Yangtze River, above Nanking
PR-4
Tutuila
1928
19Mar42

Lend-Lease to China
PR-3
Wake
1927
8 Dec 41; captured at Shanghai
---
As Paul Harvey would say "Here's the rest of the Story"
Dear Shaya,
For the past 17 years I have been chasing construction and modification information, and the operational history of USS Panay PR 5.
I was the one who assisted Bob Santos with 1937 details on Panay, when he built the model that you picture in your Web site ad for the Iron Shipwright kit.
PHOTO CAPTION ERRORS:
1 - USS Panay from the Asiatic Fleet
Same ship as in the movie "Sand Pebbles"
- Do not tell an old PANAY crewman he was part of the Asiatic Fleet, which technically he was !! Panay served her all too brief nine year life assigned to the US Navy's Yangtze River Patrol, an entity in itself, within the Asiatic Fleet.
- The 150ft gunboat USS San Pablo in the movie "Sand Pebbles" was built in Hong Kong as a movie prop, and had no resemblance to the 191ft Panay. In fact the movie scene was 1925/27 and the Panay was not commissioned till October 1928, at Shanghai, where she was built to a Chinese shipyard design, along with her 5 sister gunboats.
This myth that the movie gunboat San Pablo looked like the USS Panay, is one that has been perpetuated for years, with no basis of fact, even though you stretch your imagination as far as it can go !!
Caption suggestion change:
USS Panay PR 5 served in the Yangtze River Patrol, in China. She was
attacked and sunk by Japanese Naval aircraft, 12 December 1937.
2 - USS Panay in 1/192 scale this is the American Gunboat
attacked by the Japanese in their war on China 1938.

- Note the date 1938 is incorrect, and the IS kit basically shows her in her 1928 configuration.
- The IS kit configuration does not represent Panay when she was attacked and sunk by Japanese aircraft in 1937. Note on Bob Santos's model the addition of bullet proof [BP] armor plate along the main and boat decks, which still lacks the BP in the way of the radio room. Gasoline can racks added on the stern. Change in the motorpan's passenger shelter. The forward 3"/50 gun BP shielding still does not show its major modifications made by 1937, because I gave Bob this information to late in the models construction to have it incorporated. All this and other details I coached Bob Santos on.
Caption suggestion change:
This 1:192 kit basically represents the 191ft Panay as she was commissioned
10 September 1928, if the tent like structure aft is removed.
=============================================================================
As far as I know no one has done a in-box or construction review of the Iron Shipwright kit of Panay. Also ... as far as I know, I am the only person with a definitive knowledge of Panay's construction and modification history. Those modelmakers I have known who have built the IS kit have used the Floating Drydock drawings of Panay as reference for building her in her 1937 configuration. They have been deceived because basically the FD drawings are done in her 1928 "as built" configuration, with the exception of incorrectly showing the tent like structure on top of the aft structure on the boat deck, which was not originally there in 1928.
Probably the worst information in the FD drawings, is an incorrect diameter for the propellers, the propeller shafts are shown in line with the outboard dagger rudders, instead of being centered between the midship rudder and the outboard dagger rudders. These errors are all repeated in the IS kit instructions.
Hope I have been informative. Hate to see miss-information in print.