Toll free 800 - 845-1140
Shipping will be added to all orders, we always endeavour to give you the best rate >>> Click for Rates.
If you have any questions or need help email us, call us or click here for HELP

Balao Class Submarines
One of our favorite NYC customers Frank Cinetti
built his boat USS Sea Cat look at his easy build display.
Look what Leslie did with kit S101 - $19.00 kit from steelnavy.com

For added realism add photo-etching.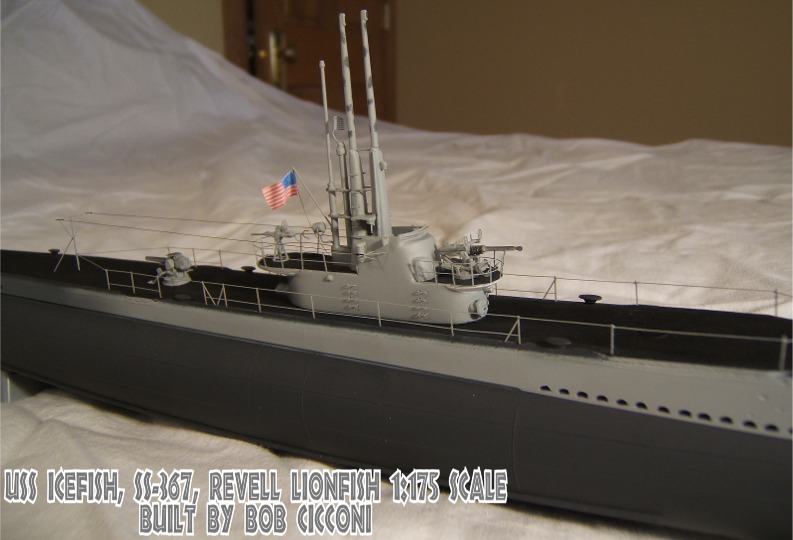 The picture says it all. From steelnavy.com
Essential Skills Scale Modeling


Were you a teenager the last time
you built a model?


A step-by-step introduction to scale modeling basics.
Beginning scale modelers are full of questions:
What kinds of models are there? What kinds of tools
do I need? What glue works best?
How do I put a model together?
How are the decals applied?
Finally, Kalmbach offers answers to
all these beginner questions and more.

This new book is filled with more pictures
and how to articles than their other book.


List $21.95 Our Price BK01 19.95
Balao Class:
Displacement: 1526 tons surfaced, 2424 tons submerged
Length: 311'
Beam: 27'3"
Draft: 16'10"
Speed: 20 knots surfaced, 9 knots submerged
Armament: 1 3"/50 or 1 4"/50 or 1 5"/50, 6 bow and 4 stern torpedo tubes, 24 21" torpedoes
Complement: 80
Diesel engines, surfaced/electric motors, submerged
Click the subs number for a picture.
| | | | |
| --- | --- | --- | --- |
| No. | Name | Comm. | Notes (: Lost) |
| | Apogon | 1943 | |
| | Archerfish | 1943 | |
| | Aspro | 1943 | |
| | Atule | 1944 | |
| | Balao | 1943 | |
| | Bang | 1943 | |
| | Barbel | 1944 | : 4 Feb 45; air attack, SW of Palawan |
| | Barbero | 1944 | |
| | Batfish | 1943 | |
| | Baya | 1944 | |
| | Becuna | 1944 | |
| | Bergall | 1944 | |
| | Besugo | 1944 | |
| | Billfish | 1943 | |
| | Blackfin | 1944 | |
| | Blenny | 1944 | |
| | Blower | 1944 | |
| | Blueback | 1944 | |
| | Boarfish | 1944 | |
| | Bowfin | 1943 | |
| | Brill | 1944 | |
| | Bugara | 1944 | |
| | Bullhead | 1944 | : 6 Aug 45; air attack, off Bali |
| | Bumper | 1944 | |
| | Burrfish | 1943 | |
| | Cabezon | 1944 | |
| | Cabrilla | 1943 | |
| | Caiman | 1944 | |
| | Capelin | 1943 | : < 18 Mar 44; unknown causes |
| | Capitaine | 1945 | |
| | Carbonero | 1945 | |
| | Carp | 1945 | |
| | Catfish | 1945 | |
| | Charr | 1944 | |
| | Chivo | 1945 | |
| | Chopper | 1945 | |
| | Chub | 1944 | |
| | Cisco | 1943 | : < 8 Feb 44; unknown causes |
| | Clamagore | 1945 | |
| | Cobbler | 1945 | |
| | Cochino | 1945 | |
| | Corporal | 1945 | |
| | Crevalle | 1943 | |
| | Cubera | 1945 | |
| SS-348 | Cusk | 1946 | |
| | Dentuda | 1944 | |
| | Devilfish | 1944 | |
| | Dogfish | 1945 | |
| | Dragonet | 1944 | |
| | Entemedor | 1945 | |
| | Escolar | 1944 | : < 28 Feb 45; unknown causes |
| | Golet | 1943 | : < 23 Oct 44; unknown causes |
| | Greenfish | 1945 | |
| | Guavina | 1943 | |
| | Guitaro | 1944 | |
| | Hackleback | 1944 | |
| | Halfbeak | 1945 | |
| | Hammerhead | 1944 | |
| | Hardhead | 1944 | |
| | Hawkbill | 1944 | |
| | Icefish | 1944 | |
| | Jallao | 1944 | |
| | Kete | 1944 | : Mar 45; by IJN submarine? |
| | Kraken | 1944 | |
| | Lagarto | 1944 | : 3 May 45; depth-charged by IJN minelayer Hatsutaka ? |
| | Lamprey | 1944 | |
| | Lancetfish | 1945 | |
| | Ling | 1945 | |
| | Lionfish | 1944 | |
| | Lizardfish | 1944 | |
| | Loggerhead | 1945 | |
| | Macabi | 1945 | |
| | Manta | 1944 | |
| | Mapiro | 1945 | |
| | Menhaden | 1945 | |
| | Mero | 1945 | |
| | Moray | 1945 | |
| | Pampanito | 1943 | |
| | Parche | 1943 | |
| | Perch | 1944 | |
| | Picuda | 1943 | |
| | Pilotfish | 1943 | |
| | Pintado | 1944 | |
| | Pipefish | 1944 | |
| | Piper | 1944 | |
| | Piranha | 1944 | |
| | Plaice | 1944 | |
| | Pomfret | 1944 | |
| | Queenfish | 1944 | |
| | Razorback | 1944 | |
| | Redfish | 1944 | |
| | Roncador | 1945 | |
| | Ronquil | 1944 | |
| | Sabalo | 1945 | |
| | Sablefish | 1945 | |
| | Sand Lance | 1943 | |
| | Scarbardfish | 1944 | |
| | Sea Cat | 1944 | |
| | Sea Devil | 1944 | |
| | Sea Dog | 1944 | |
| | Sea Fox | 1944 | |
| | Sea Owl | 1944 | |
| | Sea Poacher | 1944 | |
| | Sea Robin | 1944 | |
| | Seahorse | 1943 | |
| | Sealion | 1944 | |
| | Segundo | 1944 | |
| | Sennet | 1944 | |
| | Shark | 1944 | : 24 Oct 44; depth charge, between Hainan and Bashi Channel |
| | Skate | 1943 | |
| | Spadefish | 1944 | |
| | Spikefish | 1944 | |
| | Spot | 1944 | |
| | Springer | 1944 | |
| | Sterlet | 1944 | |
| | Stickleback | 1945 | |
| | Tang | 1943 | : 25 Oct 44; circular return of own torpedo in the Formosa Channel |
| | Threadfin | 1944 | |
| | Tilefish | 1943 | |
| | Tiru | 1945 | |
| | Trepang | 1944 | |
---