Toll free 800 - 845-1140
Shipping will be added to all orders, we always endeavour to give you the best rate >>> Click for Rates.
If you have any questions or need help email us, call us or click here for HELP


Landing Craft Tank (LCT)
Utility Landing Ship (LSU)
Landing Craft Utility (LCU)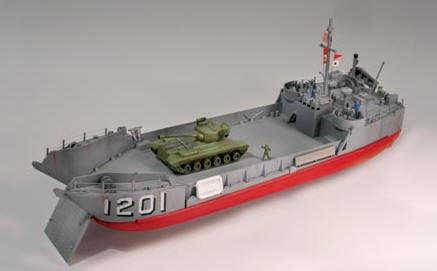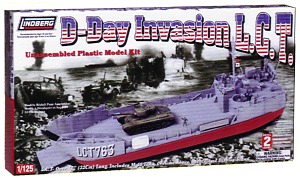 LCT-Mark V Type
You can build any number of LCT's with this kit!
Great model 14" long 29.95 - Kit# AX110
Displacement: 309 tons (landing)
Length: 119'
Beam: 32'
Draft: 3'7" forward, 4' aft (landing)
Speed: 8 knots
Armament: 2 20mm
Complement: 1 officer, 12 enlisted
Capacity: 4 medium or 3 50-ton tanks; or 150 tons cargo; accomodations for 8 troops
3 Gray 225 hp diesels; triple screws
Essential Skills Scale Modeling


Were you a teenager the last time
you built a model?


A step-by-step introduction to scale modeling basics.
Beginning scale modelers are full of questions:
What kinds of models are there? What kinds of tools
do I need? What glue works best?
How do I put a model together?
How are the decals applied?
Finally, Kalmbach offers answers to
all these beginner questions and more.

This new book is filled with more pictures
and how to articles than their other book.


List $21.95 Our Price BK01 19.95
Here is a story from a happy customer!
Captain: Took LCT 215 up to Rhode Island this weekend and presented it to my father in law. I lost the exhaust stack , snapped the mast and incurred some other damage going through the x-ray machines in the airport and was detained for a long time as I had to explain that the troublesome x ray images were only large nails that I had cemented in the hold for ballast. A quick visit to the drydock fixed most of the problems. He was astonished and the memories came streaming back and many tales were told this weekend. I found some old 1940 newspapers around the house and used them as a backdrop for the pic, being true to my motto that Truth should never stand in the way of history. LCT 215 was not in existence in 1940 and there was no American participation in the Dunkirk evacuation. I'll zap you a plain pic with no backdrop. If either of these is worthy for your website I'll send them to you as a JPEG file and you have my permission to use them and I will send you a good testimonial to go along with them (e.g LCT 215 emerges out of the pages of history thanks to . . . etc) Brian M.